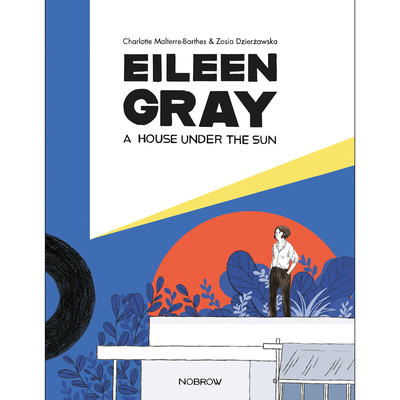 Eileen Gray
A House Under The Sun
Hardcover

* Individual store prices may vary.
Description
Meet Eileen Gray, the female architect behind the world-renowned E-1027 house and a pioneer of the Modern Movement in architecture.

In 1924, her work began in earnest on a small villa by the sea in the south of France. Nearly a century later, this structure is a design milestone. But like so many gifted female artists and designers of her time, Eileen Gray's story has been eclipsed by the men with whom she collaborated. Dzierżawska's exquisite visuals illuminate the previously overlooked struggles and triumphs of a young queer Irish designer whose work and life came to bloom during the 'Années Folles' of early 20th century Paris.
Praise For Eileen Gray: A House Under The Sun…
"Many of Dzierzawska's clever layouts echo architectural forms, and the book as a whole expresses a tension between hardness — exemplified by square comic panels and white space — and the softness of her characteristic line."
—NPR

"Polish comics author Dzierzawska alters her muted palette to denote settings and eras and reserves precision for the painstaking re-creations of E-1027. She overlays action frames onto the building and its blueprints, emphasizing its foundational importance to modern design and Gray's journey as an artist. . . this appropriately inventive retelling gives due credit to Gray and her significant contributions."
—Booklist

"Illustrated with soft crayon lines and a neutral palette—except where Corbusier's paintings break the color scheme with bright intrusion—the layouts are lovely and evocative of Gray's creative process."
—Publishers Weekly

"Eileen Gray: A House Under the Sun is a satisfying book . . . it does a great job of supporting its instinctual assumptions with fact, tracing and filling the gaps as a biographer would do, but with an eye toward enjoyment, in a true reflection of the notions Eileen Gray stood for throughout her life."
—The New York Journal of Books
Nobrow, 9781910620434, 160pp.
Publication Date: June 11, 2019
About the Author
Charlotte Malterre-Barthes is a French architect and urban designer who graduated from ENSA-Marseille and TU Vienna. She is currently Director of Studies of the MAS in Urban Design at the ETH Zurich, where she now lives.

Zosia Dzierżawska is a Polish illustrator and comic author. Architecture and living/urban space have always been important in her work as in her short story Waiting Rooms. This is her first book to be published in the U.S. She lives in Zurich.