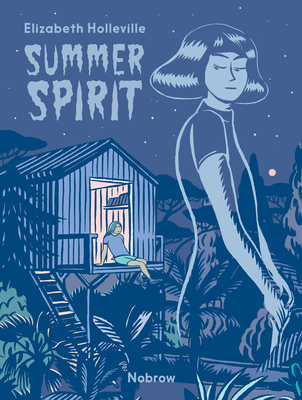 Summer Spirit
Paperback

* Individual store prices may vary.
Description
A new YA graphic novel from French illustrator Elizabeth Holleville, Summer Spirit puts a fresh spin on the struggles of growing up as this coming-of-age story takes a supernatural and sinister turn.

Being a teenager is hard enough without finding out your new best friend is a 60 year old ghost...

Louise spends every summer at her grandmother's house with her older sister and their cousins. But this summer, Louise realises her relatives are fast growing up, without her. While they're concerned with boy drama, Louise is suddenly left alone. But then one day she meets Lisa, who will never, ever become a teenager...
Praise For Summer Spirit…
"Employing thick line work and saturated beachy hues, debut author Holleville uses subtle blue overlays for more sinister events, thoughtfully twining experiences of lonely childhood alongside experiences of teenhood and aging."
—Publishers Weekly 

"Summer Spirit is two things at the same time — an acknowledgment of moving forward at a sometimes dizzying pace and an appreciation of how comforting slowness and even stasis can be amidst rapid change. Both are part of the human condition, especially during the transitory period of the teenage years, and that's why after a lifetime of change, so many of us crave the engulfing comfort of an afterlife."
—Comics Beat 

Nobrow, 9781910620724, 262pp.
Publication Date: May 4, 2021
About the Author
Elizabeth Holleville is a comic book artist based in Strasbourg, France. Inspired by the horror genre including David Cronenberg and Stephen King, and comic artists such as Alison Bechdel and Charles Burns, she seeks to produce stories that focus on the emotions of the characters involved, usually with a supernatural twist. She has worked with Glénat and Casterman as well as self- publishing her own comics and zines.