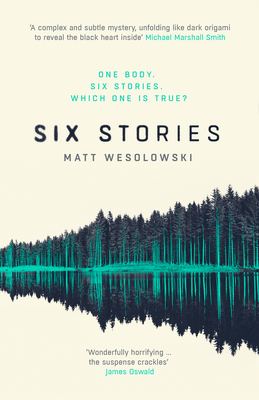 Six Stories (Paperback)
A Thriller (Six Stories Series)
Orenda Books, 9781910633625, 280pp.
Publication Date: June 1, 2017
* Individual store prices may vary.
Description
Elusive online journalist Scott King investigates the death of a teenager at an outward bound centre in a dark, chilling thriller. First in an award-winning podcast-style series, for fans of Serial . . . 

"A dazzling fictional mystery . . . " —Foreword Reviews

:A genuine genre-bending debut." —Daily Mail

One body. Six stories. Which one is true?

1997. Scarclaw Fell. The body of teenager Tom Jeffries is found at an outward bound centre. Verdict? Misadventure. But not everyone is convinced. And the truth of what happened in the beautiful but eerie fell is locked in the memories of the tight-knit group of friends who embarked on that fateful trip, and the flimsy testimony of those living nearby.

2017. Enter elusive investigative journalist Scott King, whose podcast examinations of complicated cases have rivalled the success of Serial, with his concealed identity making him a cult internet figure.In a series of six interviews, King attempts to work out how the dynamics of a group of idle teenagers conspired with the sinister legends surrounding the fell to result in Jeffries' mysterious death. And who's to blame…

As every interview unveils a new revelation, you'll be forced to work out for yourself how Tom Jeffries died, and who is telling the truth.

A chilling, unpredictable and startling thriller, Six Stories is also a classic murder mystery with a modern twist, and a devastating ending.

"Bold, clever and genuinely chilling with a terrific twist that provides an explosive final punch." —Sunday Mirror

"With a unique structure, an ingenious plot and so much suspense you can't put it down, this is the very epitome of a must-read." —Heat

"Impeccably crafted and gripping from start to finish." —Doug Johnstone, The Big Issue

"It's a relentless & original work of modern rural noir which beguiles & unnerves in equal measure. Matt Wesolowski is a major talent." —Eva Dolan

"Wonderfully horrifying … the suspense crackles." —James Oswald

"Original, inventive and brilliantly clever." —Fiona Cummins

"An easy 4 stars for Six Stories. For fans of thrills, chills and an up-to-date take on the darker side of society." —J.S. Collyer

"Wonderfully atmospheric. Matt Wesolowski is a skilled storyteller with a unique voice. Definitely one to watch." —Mari Hannah

"The literary equivalent of dark metal – gritty, dark, often shocking, and always exciting. A masterful debut." —Kati Hiekkapelto
About the Author
Matt Wesolowski is an author from Newcastle-Upon-Tyne in the UK. He is an English tutor for young people in care. Matt started his writing career in horror, and his short horror fiction has been published in numerous UK- and US-based anthologies such as Midnight Movie Creature, Selfies from the End of the World, Cold Iron and many more. His novella, The Black Land, a horror story set on the Northumberland coast, was published in 2013. Matt was a winner of the Pitch Perfect competition at Bloody Scotland Crime Writing Festival in 2015. His debut thriller, Six Stories, was a bestseller in the USA, Canada, the UK and Australia, and a WH Smith Fresh Talent pick, and TV rights were sold to a major Hollywood studio. A prequel, Hydra, was published in 2018 and became an international bestseller. Changeling, the third in the Six Stories series, will be published in 2019.
Praise For Six Stories: A Thriller (Six Stories Series)…
"Wesolowski is especially skilled at utilizing the setting to enhance his naturally suspenseful story." —Foreword Reviews
"People are going to be talking about this one, mark my words." —Gare's Reads & Reviews

"[A] fascinating tale from a fresh, exciting new voice in British crime writing." —Mystery Scene
"[A] complex, clever literary thriller that at times left me feeling claustrophobic, and yet I could not stop reading." —Book Ramblings