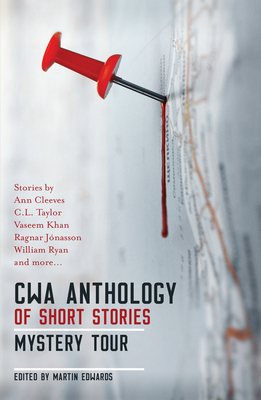 CWA Anthology of Short Stories (Paperback)
Mystery Tour
Orenda Books, 9781910633922, 276pp.
Publication Date: May 1, 2018
Other Editions of This Title:
Hardcover (2/1/2018)
* Individual store prices may vary.
Description
Crime spreads across the globe in this new collection of short stories from the Crime Writer's Association, as a conspiracy of prominent crime authors take you on world mystery tour. Highlights of the trip include a treacherous cruise to French Polynesia, a horrifying trek in South Africa, a murderous train-ride across Ukraine and a vengeful killing in Mumbai. But back home in the UK, life isn't so easy either. Dead bodies turn up on the backstreets of Glasgow, crime writers turn words into deeds at literary events, and Lady Luck seems to guide the fate of a Twickenham hood.
Showcasing the range, breadth and vitality of contemporary crime-fiction genre, these 28 chilling and unputdownable stories will take you on a trip you'll never forget.

Contributions from: Ann Cleeves, C.L. Taylor, Susi Holliday, Martin Edwards, Anna Mazzola, Carol Anne Davis, Cath Staincliffe, Chris Simms, Christine Poulson, Ed James, Gordon Brown, J.M. Hewitt, Judith Cutler, Julia Crouch, Kate Ellis, Kate Rhodes, Martine Bailey, Michael Stanley, Maxim Jakubowski, Paul Charles, Paul Gitsham, Peter Lovesey, Ragnar Jónasson, Sarah Rayne, Shawn Reilly Simmons, Vaseem Khan, William Ryan and William Burton McCormick


'The diverse storytelling styles and takes on familiar genre tropes add up to an entertaining buffet for mystery fans' Publishers Weekly

'I loved the variety of writing styles, the skill that tops the list of evidence and the differing locations as we criss-crossed the globe from the streets of Glasgow to a trek in South Africa as these writers pooled their stories to produce one of the most satisfying collections of short stories I have had the pleasure of reading' Cleopatra Loves Books

'An absolutely cracking anthology which provides a wonderful introduction to the short story, with a mix of crimes to make you smile, cringe, gasp and nod' Jen Meds Book Reviews

'A mystery tour which takes you across the world and back again, across the boundaries of right and wrong, across the whole spectrum of human emotions, all wrapped up in a bloody red bow. Highly recommended. A brilliantly witty, dark and captivating collection' The Book Trail

'This is a must-read book. Don't miss out!' Damp Pebbles

'This is an excellent collection of stories that you can either read one after the other, or, as I did – dipping in and out and reading a mixture of authors both known and new to me' My Reading Corner

'This is an excellent collection of high quality crime stories, ranging from psychological thrillers to crime scene investigations, providing something for everyone – and the chance to get out of your usual 'crime reads' comfort zone' Off The Shelf Books
About the Author
Twenty-eight of the finest international crime writers in an exciting new anthology edited by Martin Edwards, award-winning crime writer and critic, and author of the bestselling and multi-award-winning The Golden Age of Crime. He is also vice chair of The CWA.
Praise For CWA Anthology of Short Stories: Mystery Tour…
"The anthology is filled with one wonderful story after another…If you want to see how short stories can pack a punch, make sure to read this collection."—Reviewing the Evidence