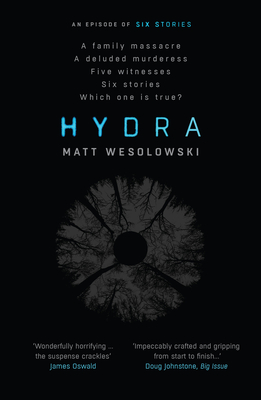 Hydra (Six Stories Series) (Paperback)
Orenda Books, 9781910633977, 320pp.
Publication Date: June 1, 2018
Other Editions of This Title:
MP3 CD (6/5/2018)
* Individual store prices may vary.
Description
A family massacre. A deluded murderess. Five witnesses. Six stories. Which one is true?

One cold November night in 2014, in a small town in the north west of England, 21-year-old Arla Macleod bludgeoned her mother, father and younger sister to death with a hammer, in an unprovoked attack known as the Macleod Massacre. Now incarcerated at a medium-security mental-health institution, Arla will speak to no one but Scott King, an investigative journalist, whose Six Stories podcasts have become an internet sensation.
King finds himself immersed in an increasingly complex case, interviewing five witnesses and Arla herself, as he questions whether Arla's responsibility for the massacre was a diminished as her legal team made out.
As he unpicks the stories, he finds himself thrust into a world of deadly forbidden 'games', online trolls, and the mysterious black-eyed kids, whose presence seems to extend far beyond the delusions of a murderess…
Dark, chilling and gripping, Hydra is both a classic murder mystery and an up-to-the-minute, startling thriller, that shines light in places you may never, ever want to see again.


'Bold, clever and genuinely chilling with a terrific twist that provides an explosive final punch' Deidre O'Brien, Sunday Mirror

'A genuine genre-bending debut' Carla McKay, Daily Mail

'Impeccably crafted and gripping from start to finish' Doug Johnstone, The Big Issue

'The very epitome of a must-read' Heat

'Wonderfully horrifying … the suspense crackles' James Oswald

'A complex and subtle mystery, unfolding like a dark origami to reveal the black heart inside' Michael Marshall Smith

'A relentless and original work of modern rural noir which beguiles and unnerves in equal measure. Matt Wesolowski is a major talent' Eva Dolan

'Original, inventive and brilliantly clever' Fiona Cummins

'Once again Matt Wesolowski has written a truly excellent literary mystery that is gripping from beginning to end' Atticus Finch
About the Author
Matt Wesolowski is an author from Newcastle-Upon-Tyne in the UK. He is an English tutor for young people in care. Matt started his writing career in horror, and his short horror fiction has been published in numerous UK- an US-based anthologies such as Midnight Movie Creature, Selfies from the End of the World, Cold Iron and many more. His novella, The Black Land, a horror story set on the Northumberland coast, was published in 2013. Matt was a winner of the Pitch Perfect competition at Bloody Scotland Crime Writing Festival in 2015. His debut thriller, Six Stories, was a bestseller in the USA, Canada, the UK and Australia, and a WH Smith Fresh Talent pick, and TV rights were sold to a major Hollywood studio. A prequel, Hydra, was published in 2018 and became an international bestseller. Changeling, the third in the Six Stories series, will be published in 2019.
Praise For Hydra (Six Stories Series)…
"complex and original...Hydra is as surprising as it is good, and should appeal to readers who enjoy crime with an eerie, dark vibe."—Mystery Scene