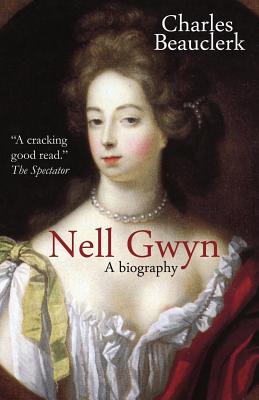 Nell Gwyn
A Biography
Paperback

* Individual store prices may vary.
Other Editions of This Title:
Paperback (10/1/2006)
Description
Charles Beauclerk brings to this book on his ancestress a rich and deep knowledge of the period conveyed in warm, unstuffy and amusing style' Daily Mail 'Succeeds in capturing Nell Gwyn's vivacity, originality and essential sweetness' - The Guardian 'Beauclerk tells Nell's story with obvious relish... a biography that feels like a good long gossip' - The Mail on Sunday Revealing and entertaining.' The Literary Review 'Beauclerk paints a lively and detailed picture of Restoration London... very enjoyable.' - The Independent "Mr. Beauclerk writes of a time when, if it was good to be a king, it was good to be his mistress too. He does not fashionably cut his characters down to modem size-and is himself directly descended from the union of Charles II and Nell Gwyn, of which he writes with such humor, spirit, and erudition." - FAY WELDON "Shining beauty and dazzling wit brought orange-seller Nell Gwyn to the attention of Charles II. For seventeen years, as lovers and loyal friends, the two shared the pleasures of the bed and the play, of falconry, fishing, and walking in the woods at night. Charles Beauclerk has the blood of Nell and Charles in his veins, and, through his easy, erudite pen, Restoration England comes alive. A book to be savored, slowly." - GILLIAN GILL, AUTHOR OF NIGHTINGALES: THE EXTRAORDINARY UPBRINGING AND CURIOUS LIFE OF MISS FLORENCE NIGHTINGALE "As well as being a cracking good read, this is both a scholarly, sympathetic, mature, and thought-provoking biography of our finest folk heroine and a well-rounded portrait of Restoration England." -HUGH MASSINGBERD, THE SPECTATOR "Charles Beauclerk's grasp of Restoration literature and culture is impressive and there is nothing he doesn't know about the politics. . . . Nell Gwyn has about it a humanity, empathy, and freshness of which his subject would undoubtedly approve." -FRANCES WILSON, THE SUNDAY TELEGRAPH "Charles Beauclerk interweaves the development of Nell's character with a vivid portrayal of the social worlds of court and stage, in which she played such a memorable part. In spite of his obvious affection for his ancestress, he provides a well-rounded view of her character and an objective account of the role she played as a woman who crossed the social boundaries and created an unforgettable, romantic comedy in her life as well as in her art." - BETKA ZAMOYSKA, THE LITERARY REVIEW "Beauclerk tells Nell's story with obvious relish. He is particularly good on the odd mind-set of Stuart England." - KATHRYN HUGHES, THE MAIL ON SUNDAY Beautiful, quick-witted and sexually magnetic, Nell Gwyn remains one of England's great folk-heroines. The story of her exceptional rise from an impoverished, abusive childhood, to the wealth and connections that came with being Charles II's mistress is a dramatic mix of lust, money, high politics and love. Famously spotted selling oranges in the Theatre Royal, Drury Line, Nell's wit and charm brought her to the attention of one of the theatre's leading actors. Under his patronage, she soon established herself as the greatest comedienne of her day, and so caught the eye of Charles II, the newly restored 'merry monarch' of a nation in hedonistic reaction to puritan rule. Their seventeen-year affair is one of the great love stories of our history, played out against a backdrop of fire, plague, court intrigue and political turmoil. This vivid, personal portrayal brilliantly recreates the licentious, yet politically charged atmosphere of Charles II's court and casts fresh light on the real Nell Gwyn, on Charles and on the restoration period.
Thistle Publishing, 9781910670385, 618pp.
Publication Date: November 30, 2015
About the Author
Charles Beauclerk is a writer, lecturer and historian of 16th and 17th century literature and history with a first-class degree from Oxford. His previous books include Shakespeare's Lost Kingdom and Piano Man: A Life of John Ogdon. He is a direct descendant of Charles II and Nell Gwyn, and lives in London.
or
Not Currently Available for Direct Purchase