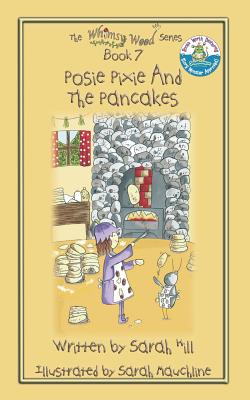 Posie Pixie and the Pancakes - Book 7 in the Whimsy Wood Series (Paperback)
Abela Publishing, 9781910882009, 68pp.
Publication Date: May 25, 2015
Other Editions of This Title:
Hardcover (12/11/2015)
* Individual store prices may vary.
Description
1st Place Tie - Royal Dragonfly Book Competition THE LATEST INSTALLMENT IN THE MULTI AWARD-WINNING 'WHIMSY WOOD' SERIES 'Posie Pixie And The Pancakes' brings us to the end of this 1st super set, in the wondrous 'Whimsy Wood' series. 'Posie Pixie' has been on so many exciting adventures already She's hunted for a new Autumn home, hosted a fireworks party and had her plans scuppered by a sudden snowstorm Book 7 is just as jam-packed with fun, frivolities, nature and necessary whimsy, as the previous delightful 6 books from this enchanting series. Posie Pixie And The Pancakes' is a really fun story which I enjoyed a lot as I love pancakes I also loved all the characters names, especially Mrs Scarlet the squirrel and Posie Pixie - Erin Steel, aged 7 years. Another visit to the magical 'Whimsy Wood' does not disappoint. When Posie Pixie and her friends set out to enjoy pancake day, lots of whimsical fun ensues. With humour and wonderfully descriptive language, you feel like you are part of Posie's latest adventure and the characters soon become your friends. What a great way to inspire children to read, by introducing them to this fantastic series of books - Mrs Teri Brown, Literacy Leader, Staniland Academy, Boston, Lincolnshire. I love Posie Pixie and I wanted to eat up all her yummy pancakes too I really liked the bit where Bromley Badger drops his party poppers - Freddie Hues aged 4 years. I loved reading this book so much, that I've been making pixie costumes from leaves and putting them out for the pixies - Amelie Bonner, aged 7 years I felt sorry for Posie and Wibble when they ate too much pancakes and had sore tummies - Jake Bonner aged 5 years I wish I could go to the Badgers' party - Logan Bonner - aged 3 years Winner of the STORY MONSTER Books Worth Devouring award.
or
Not Currently Available for Direct Purchase