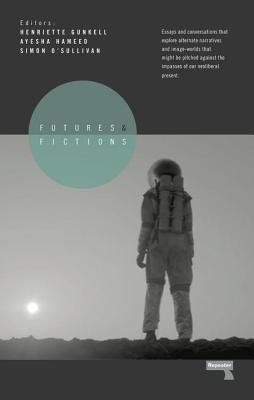 Futures and Fictions
Essays and Conversations that Explore Alternative Narratives and Image Worlds that Might Be Pitched Against the Impasses of our Neo-Liberal Present
Paperback

* Individual store prices may vary.
Description
Futures and Fictions is a book of essays and conversations that explore possibilities for a different 'political imaginary' or, more simply, the imagining and imaging of alternate narratives and image-worlds that might be pitched against the impasses of our neoliberal present. 

In particular, the book contributes to prescient discussions around decolonization, post-capitalism and new kinds of social movements – exploring the intersections of these with contemporary art practice and visual culture. Contributions range from work on science, sonic and financial fictions and alternative space-time plots to myths and images generated by marginalized and 'minor' communities, queer-feminist strategies of fictioning, and the production of new Afro- and other futurisms.

Contributors to thsi volume include Ursula K. Le Guin, Theo Reeves-Evisson, Bridget Crone, Kodwo Eshun, Louis Moreno, Laboria Cuboniks, Luciana Parisi, Stefan Helmreich, Mark Fisher, Judy Thorne, Annett Busch, Harold Offeh, Robin Mackay, Elvira Dyangani Ose, Kemang Wa Lehulere, and Oreet Ashery.
Repeater, 9781910924631, 408pp.
Publication Date: November 21, 2017
About the Author
Simon O'Sullivan is Professor of Art Theory and Practice in the Department of Visual Cultures at Goldsmiths College, University of London. He has published two monographs with Palgrave, Art Encounters Deleuze and Guattari: Thought Beyond Representation (2005) and On the Production of Subjectivity: Five Diagrams of the Finite-Infinite Relation (2012), and is the editor, with Stephen Zepke, of both Deleuze, Guattari and the Production of the New (Continuum, 2008) and Deleuze and Contemporary Art (Edinburgh University Press, 2010). He also makes art, with David Burrows, under the name Plastique Fantastique – and is currently working on a collaborative volume of writings, with Burrows, on Mythopoesis-Myth-Science-Mythotechnesis: Fictioning and the Posthuman in Contemporary Art.

Henriette Gunkel is a Lecturer in the Department of Visual Cultures at Goldsmiths College, University of London. She is the author of The Cultural Politics of Female Sexuality in South Africa (Routledge, 2010) and co-editor of Undutiful Daughters: New Directions in Feminist Thought and Practice (Palgrave, 2012), What Can a Body Do? (Campus, 2010) and Frieda Grafe: 30 Filme (Brinkman & Bose, 2013). She is currently working on a monograph on Africanist science fictional interventions, and on two further volumes: Visual Cultures as Time Travel, co-authored with Ayesha Hameed (Sternberg) and We Travel the Space Ways: Black Imagination, Fragments and Diffractions (Duke University Press).

Ayesha Hameed is Joint Programme Leader in Fine Art and History of Art at Goldsmiths College, University of London.  Her project Black Atlantis has been performed at the ICA and Showroom, London (2015); the Oxford Programme for the Future of Cities (2015); and Edinburgh College of Art (2015). A second project, A Rough History (of the Destruction of Fingerprints), has been exhibited at the House of World Cultures Berlin (2014); Kunstraum Niederoesterreich Vienna (2015); Pavillion, Leeds (2015); and Homeworks Space Program, Beirut (2016). Her publications include contributions to Forensis: The Architecture of Public Truth (Sternberg 2014); The Sarai Reader (Sarai 2013); We Travel the Spaceways (Duke University Press, forthcoming 2017) and Unsound/Undead (Univocal, forthcoming 2017). She is also co-author, with Henriette Gunkel, of Visual Cultures as Time Travel (Sternberg, forthcoming 2017).
or
Not Currently Available for Direct Purchase