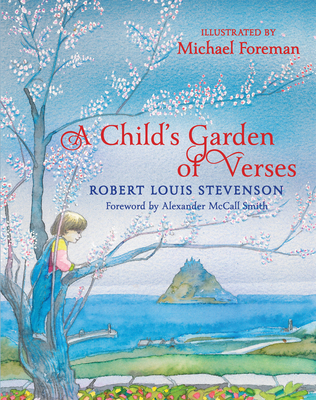 A Child's Garden of Verses (Hardcover)
Otter-Barry Books, 9781910959107, 128pp.
Publication Date: November 1, 2017
Other Editions of This Title:
Paperback (9/11/2016)
Paperback (10/25/2016)
Paperback (1/2/2017)
Paperback (10/22/2017)
Hardcover (5/25/2016)
Hardcover (5/24/2016)
Hardcover (5/22/2016)
Paperback (8/21/2017)
Hardcover (8/8/2015)
Paperback (8/21/2017)
Paperback (8/19/2017)
Hardcover (5/24/2016)
Paperback (8/20/2017)
Paperback (8/24/2017)
Hardcover (5/25/2016)
Paperback (8/18/2017)
* Individual store prices may vary.
Description
So you may see, if you will look Through the windows of this book, Another child, far, far away, First published in 1885, A Child's Garden of Verses is one of the best-loved classic poetry books for children ever written. The world-famous illustrator Michael Foreman complements these classic and beloved verses with illustrations as luminous and clear as Stevenson's own word pictures. First published to mark the collection's centenary year of 1985, the book is now reissued in a finely-produced gift edition in hardback with imitation cloth binding, head and tail bands.
About the Author
ROBERT LOUIS STEVENSON (1850-1894) is one of the most famous popular authors of modern times - he is ranked the 25th most translated author in the world, ahead of Charles Dickens and Oscar Wilde. Born in Edinburgh, Scotland, the novelist, poet and travel writer was the author of world-famous books such as Treasure Island and The Strange Case of Dr Jekyll and Mr Hyde, as well as this classic and much-loved children's poetry collection A Child's Garden of Verse. MICHAEL FOREMAN has illustrated over 100 books by author such as William Shakespeare, JM Barrie, the Brothers Grimm, Charles Dickens and Oscar Wilde, as well as writing and illustrating many of his own books. He has won the Kate Greenaway Medal twice, and has twice been nominated for the international Hans Christian Andersen Award. Some of his most famous books are: War Boy, War Game, Mia's Story, One World and Dinosaurs and All That Rubbish as well as many classic story collections with Michael Morpurgo. Michael Foreman lives in London and Cornwall. ALEXANDER MCCALL SMITH, CBE is a British writer and Emeritus Professor of Medical Law at the University of Edinburgh. In the late 20th century, McCall Smith became a respected expert on medical law and bioethics and served on British and international committees concerned with these issues. He has since become internationally known as a writer of fiction, with sales of English language versions exceeding 40 million by 2010 and translations into 46 languages. He is most widely known as the creator of the The No. 1 Ladies' Detective Agency series.