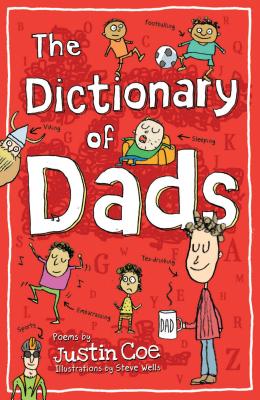 The Dictionary of Dads (Paperback)
Poems
Otter-Barry Books, 9781910959169, 96pp.
Publication Date: October 1, 2017
* Individual store prices may vary.
Description
He's my Abracadabra dad He wows me with his wizardry Slips secrets up his sleeve To magic away misery Look out for Big Bad Dad and Caveman Dad, laugh at Daddy Disaster and Donkey Dad, feel sorry for Faraway Dad and look forward to Homecoming Dad. Then raise a cheer for Mom-Dad There are more than fifty different dads in The Dictionary of Dads. Find your favorite - but watch out for Exploding Dad This is a brilliant and funny debut collection from a poet who performs his work in schools and theatres across the UK, with witty illustrations by Steve Wells.
About the Author
Justin Coe is a performance poet on a mission to reconnect people with poetry and poetry with people. A regular and popular performer in schools, theatres and community settings, he has entertained everywhere from Sheppey to Shanghai and from the Savoy Hotel to street corners, steam trains and a sitting-room made entirely out of newspaper. In the last decade, since relocating to Southend and becoming a father, he has also written and performed seven spoken word theatre shows for young people. His most recent show Big Wow Small Wonder (about the joys of being the smallest boy in school) is produced by Half Moon Theatre in east London and continues to tour to venues nationally. He first dreamt of writing a book when he was five years old. It's taken him nearly 40 years, but he's done it! Justin Coe lives in Southend-on-Sea, Essex. Steve Wells is a designer and illustrator. He has designed over 200 book covers and his spontaneous and scratchy illustrations have appeared in more than a dozen books and have been published around the world. He lives in Bath with his wife and three children, one cat and a lizard. Follow Steve on Instagram: @stevewellsdesign and at stevewellsdesign.com
or
Not Currently Available for Direct Purchase