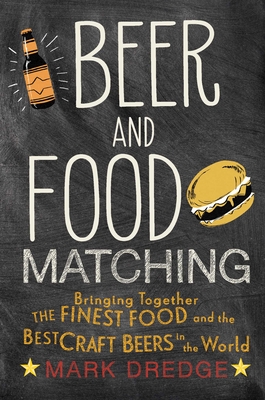 Beer and Food Matching (Hardcover)
Bringing together the finest food and the best craft beers in the world
Dog n Bone, 9781911026495, 224pp.
Publication Date: May 29, 2018
* Individual store prices may vary.
Description
Beer and Food Matching combines great food with the world's best beers.

Mark Dredge mixes great beer appreciation with delicious food pairings. Not only does this book tell you about some of the best craft beers out there, it also looks at the science of taste and the principles of matching beer with food, explaining which ingredients enhance a brew's flavor and what beer styles will complement everything from breakfast and barbecue to cheese and chocolate. Also included are over 40 beer-infused recipes like stout mac 'n' cheese or ribs in Belgian beer. With over 250 beers featured, it's ideal for anyone who loves a drink and a tasty bite to eat.
About the Author
Mark Dredge is an award-winning beer, food, and travel writer from London, England. In 2011, 2013, and 2014, he was awarded Beer and Food Writer of the Year from the British Guild of Beer Writers for the work on his blog Pencil and Spoon and then his first two books, Craft Beer World and Beer and Food, which also won an award from the North American Guild of Beer Writers. In the last year Mark wrote The Best Beer In The World and Cooking with Beer for Dog 'n' Bone, and his writing has featured in leading publications across the globe; he's also an international beer judge. You can follow him on Twitter and Instagram: @MarkDredge.