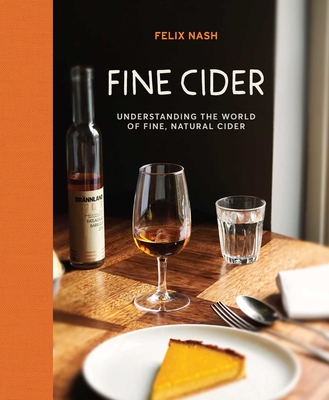 Fine Cider
Understanding the world of fine, natural cider
Hardcover

* Individual store prices may vary.
Description
Exploring the fine cider movement and the people and producers behind it.

Exploring the fine cider movement and the people and producers behind it.

"Felix is one of those heroes of local produce and producers, in his case of what I call true ciders. These ciders (and perrys) bear no relation in terms of provenance, endeavour, cost, landscape or heritage to the commercial ciders that compete for the mass market. The world is logistics and marketing, well for those big companies maybe, for Felix it's enthusiasm, effort and the lovely work of the local, "I can see the orchard from here", producers. So here's a book that opens the door to the past and, most importantly, the future." – Trevor Gulliver, Co-founder of St John, London

Think you know about hard cider? Well think again. It's not about flavorless fizz, or the so-called "flavored ciders" that don't actually contain any apples. The contemporary cider scene is an exciting place to spend some time, as passionate makers celebrate tradition and terroir while also embracing seasonality, innovation, and experimentation to produce characterful drinks that are quite remarkable. Fine Cider looks at this modern cider movement, charting its beginnings and introducing some of the key players in fine-cider making, as well as guiding you through the characteristics of different apple varieties, the cider-producing regions around the world, the processes and techniques of cider production, how cider is an exceptional partner with food, and, of course, recommending ciders you need to try.
Praise For Fine Cider: Understanding the world of fine, natural cider…
The young cider merchant Felix Nash has become an evangelist for a drink that should have more in common with wine than beer. Spend some time with him and you can't help but be swept up in his enthusiasm. His book,
Fine Cider
(Dog & Bone, £16.99), is the next best thing.
– Henry Jeffreys, Spectator
Nash's prose is lyrical as he writes of history, process, apples, and
terroir
.
–
Spirited Biz
It's not often something genuinely different comes along in drinks publishing. Either the route taken is already well-worn, or the subject matter has had more than a few outings.
Cue Felix Nash with
Fine Cider, Understanding the World of Fine, Natural Cider
. For the first time,
cider
is given the sort of treatment normally reserved for
wine
.
– Susanna Forbes, imbibe.com
Dog n Bone, 9781911026860, 176pp.
Publication Date: October 8, 2019
About the Author
Felix Nash runs The Fine Cider Company, a cider merchant that works with some of the world's best producers to promote the top ciders and perries on the market. He supplies cider to Michelin-starred restaurants and has shared his passion for cider in publications including The Times, the Financial Times, Tatler, Olive magazine, and Vice Media's Munchies website. Felix is based in London, UK.