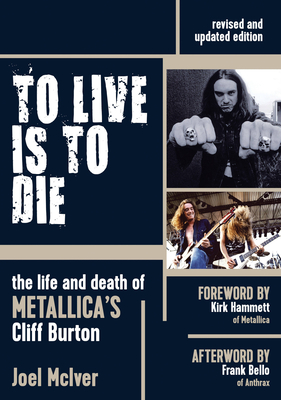 To Live Is to Die (Paperback)
The Life and Death of Metallica's Cliff Burton
Jawbone Press, 9781911036128, 288pp.
Publication Date: September 6, 2016
Other Editions of This Title:
Paperback (6/1/2009)
* Individual store prices may vary.
Description
Metallica - the seventh-biggest recording act in American history - are consummate musicians, but it wasn't always that way. Their early career is marked by a gradual evolution from garage-level thrash to sophisticated, progressive heights - an evolution driven by their bass player, Cliff Burton.
Burton pushed the band to new heights with his musical training, songwriting ability, and phenomenal bass skills across three albums: Kill 'Em All (1983), Ride The Lightning (1985) and Metallica's undisputed masterpiece, Master Of Puppets (1986). He was the first heavy metal bassist since Black Sabbath's Geezer Butler to regard the bass as a lead instrument, delivering intricate live solos based on classical fugues and even laying down a solo track on Metallica's debut album.
Cliff's life was short but influential; his death was sudden and shocking. At the age of just 24, he was killed when Metallica's tour bus overturned on a remote Swedish mountain road in the early hours of September 27 1986, crushed to death after being thrown from his bunk through a window. The driver, who has never been identified, told the rest of the band that the bus had hit black ice, leading to the accident; singer James Hetfield refused to believe him and has often spoken publicly about his doubts.
With Cliff's death, Metallica's most critically acclaimed period of activity ended. They went on to record huge-selling albums, but by their own admission never pushed the creative envelope as radically as they had done in the first four years of their career. In 2006, a group of dedicated Metallica fans unveiled a memorial to Cliff at the site of his death; the cult of Burton grows year on year, with bassists of many musical styles (even outside heavy metal) acknowledging his influence.
This revised and updated edition, published to mark the 30th anniversary of Burton's sad passing, adds a new appreciation of Cliff's influence on a new generation of rock and metal bass players, with commentary from the cream of the modern bass scene, plus a look at his signature bass gear and Metallica's current activities, which reference the Burton era more profoundly than ever before.
About the Author
Joel McIver is the bestselling author of Justice for All: The Truth About Metallica, which has been translated into 9 languages, and several other books. He has written for Rolling Stone, The Guardian, Metal Hammer, Classic Rock, and he is the occasional guest on BBC. Classic Rock magazine has called him "by some distance Britain's most prolific hard rock/metal author." He wrote the official biography of the world's biggest death metal band, Cannibal Corpse and co-wrote Megadeath's bio from bass player David Ellefson.