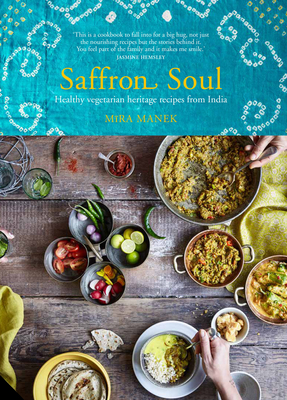 Saffron Soul (Hardcover)
Healthy, vegetarian heritage recipes from India
Jacqui Small, 9781911127185, 192pp.
Publication Date: April 24, 2017
* Individual store prices may vary.
Description
Enjoy healthy home cooking with this fresh, lighter take on Indian food, one that Mira is creating with her vibrant and healthy cooking style!

Inspired by her mother and grandmother's cooking, Mira Manek's style of food is a modern interpretation of the Indian classics, creating utterly delicious and naturally healthy dishes. Whether you want to cook a Saffron & Lime Chia Pot, an Indian Summer Salad, a Masala Almond Milk, or a Mango Shrikhand Cheesecake, Saffron Soul combines the best of the core elements of Indian cooking with original health-promoting twists.

As well as offering the best and most naturally healthy Gujarati recipes, Mira also recreates some perennial favorites, replacing traditionally used grains and sugar with more nutritious ingredients such as millet, chia and jaggery, and cutting down on oils and fats, to make her dishes even healthier.

Whether cooking a filling spicy curry, a soulful brunch, a nutritious light meal, or a luscious dessert, Mira's dishes vibrantly burst with color, and rich flavor and spice fit for a feast.
About the Author
Mira Manek is British-born of Indian heritage. Her desire for healthy cooking combined with her love of traditional Indian cuisine led to her tweaking her mother and grandmother's recipes to create lighter, healthier dishes. She now collaborates with restaurants and cafes to promote healthy Indian cooking, and runs supper clubs, cookery classes and wellness events.
Mira's recipes have featured in numerous publications including Stylist, Red Magazine, The Independent, Country & Town Magazine, Healthy Magazine, The Resident, Waitrose Magazine and Women's Health. She has also featured on BBC radio shows and on the BBC Asian Network.
Praise For Saffron Soul: Healthy, vegetarian heritage recipes from India…
'Anyone interested in vegetarian, vegan and healthy eating and cooking will be inspired by Manek's vibrant debut. She has taken Indian cooking traditions and bought them up to date by incorporating ingredients and modern nutritional insight.
You won't find fried bhajis or highly sweetened desserts and chutneys but instead you'll marvel at all the wonderful things that you never knew you could do with fresh fruit, vegetables, grains and pulses and you'll become more familiar and comfortable using a wide array of Indian spices.
This is an impressive debut by Manek and a must-own for anyone interested in heritage Indian cuisine or expanding their vegetarian repertoire and indeed their palate.'
- Foodepedia
'Delicious and delightful.  This is gorgeous food.  Food which is brimming with flavour and goodness, and beauty. I LOVE THIS BOOK!' 
- The English Kitchen
'The book is packed full of healthy vegetarian heritage recipes from India, where Mira has her cultural roots. This deeply personal connection to the recipes in the book really shines through and it's so clear to see how passionate Mira feels about sharing them with us. Expect colourful, fragrant, delicious dishes with a contemporary twist, which are all achievable and easy to recreate in a home kitchen.' 
- The Little Plantation
'Of the five items from the book I made, there wasn't one I wouldn't make again in future. Instructions are straightforward and easy to follow, and measurements are provided in both metric and imperial quantities.'
- Messy Vegetarian Cook
'Mira's dishes are full of flavour and each is fit for a feast'
- Woman and Home
'Inspired by her mother and grandmother's cooking, Mira's style of food is a modern interpretation of the Indian classics, creating utterly delicious and naturally healthy dishes. Whether you want to cook a Saffron & Lime Chia Pot, an Indian Summer Salad, a Thali, a Masala Almond Milk or a Mango Shrikhand Cheesecake, Mira's recipes combine the best of the core elements of Indian cooking with original health-promoting twists... For anyone with a love for Indian food, this is a cookery book that needs be in your collection'
- Elizabeth's Kitchen Diary
'Saffron Soul is one of those cookbooks that's an absolute joy to read. The recipes are interwoven with stories and photos of Mira's family and heritage, which really bring the book to life. Mira's passion for Indian cooking shines through on every page.'
- Bit of the Good Stuff
'This book just makes me want to cook, and I almost don't know where to start. I might just let it fall randomly open at a page and start there.'
- The Foodie Gift Hunter