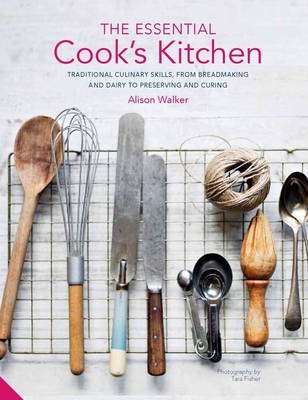 The Essential Cook's Kitchen (Hardcover)
Traditional culinary skills, from breadmaking and dairy to preserving and curing
Jacqui Small, 9781911127666, 192pp.
Publication Date: May 17, 2018
* Individual store prices may vary.
Description
An artisan food revival has taken place in recent years, making kitchen skills a celebrated part of everyday life. These days, many cooks are seeking out the techniques their grandmothers took for granted, and realizing that patient preparation and tantalizing anticipation can make home-produced delicacies taste even better. This comprehensive guide covers all aspects of the cook's kitchen, from the simple pleasures of baking bread and cakes, to curing, dairymaking, bottling, potting and preserving. Discover the endless joys of the kitchen, with recipes that stand the test of time as well as helpful technique sections and information on the ingredients and equipment you'll need. Experience the delights of the dairy by learning how to churn your own butter and soft cheese; make the most of seasonal fruits by transforming them into cordials and liqueurs; enjoy the aroma of freshly baked cakes, pastries and biscuits; feel the satisfaction that comes from salting and smoking meat at home; and fill up your larder with a mouthwatering array of jams, jellies and chutneys
About the Author
Alison Walker is the Food & Drink Editor of Country Living Magazine and loves cooking with British seasonal ingredients. After gaining experience in editorial magazine publishing, she retrained as a professional chef at Leith's School of Food and Wine in London and graduated as Student of the Year in 2002. She then worked as a food stylist on various television programmes and movie sets, such as the Bond film Die Another Day. Since then, Alison has worked as a food editor on various glossy women's magazines in London. Immediately before joining Country Living Magazine, she was Head of Cookery at Good Housekeeping.
Praise For The Essential Cook's Kitchen: Traditional culinary skills, from breadmaking and dairy to preserving and curing…
'Clear recipes and very good instructions'
- Fork Magazine
'This is a comprehensive guide to the delights of 'country cooking' in all its forms, from the simple pleasures of baking bread and cakes, to curling, dairy-making, bottling, potting and preserving.'
- Great British Food
'This inspiring book will take you step by step through the simple pleasures of making artisan breads and farmhouse- style cheeses to preserving the autumn harvest fro year-round enjoyment and the simple, satisfying arts of curing, smoking and salting meats.'
- Country Living
'Contains some lovely recipes'
- Vegetarian Living
'If you want to get back to basics and fill the larder then Alison Walker's The Essential Cook's Kitchen, another winner from Jacqui Small, should fit the bill, easy to follow, it takes you through skills that were once second nature. You don't have to have a farm or the kitchen to go with it, the recipes are scaled for the modern cook – and I love the homely illustrations too.'
- The Bookseller
'This cookbook manages to dip into your imagination and offer all the marvels you might expect to come out of a traditional country kitchen.'
- Caterer & Hotelkeeper