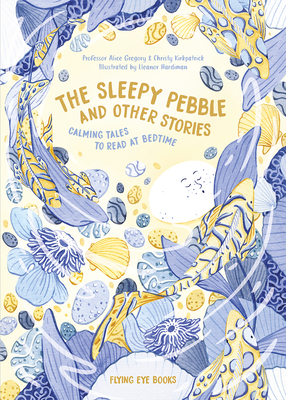 The Sleepy Pebble and Other Stories
Calming Tales To Read At Bedtime
Hardcover

* Individual store prices may vary.
Description
Perfect for quarantine reading with your children!

The Sleepy Pebble and Other Stories is a soothing collection of tales co-written by sleep specialist Alice Gregory and children's book writer Christy Kirkpatrick. They have crafted these stories to incorporate mindfulness and other techniques that can aid relaxation. Coupled with dreamlike and calming illustrations, this treasury could make bedtime a little bit easier.
Praise For The Sleepy Pebble and Other Stories: Calming Tales To Read At Bedtime…
"Used regularly, this predictable and practical resource could easily become a bedtime staple."
—Kirkus Reviews

"This book is unlike any other, and was a treat to read. We highly recommend these sweet tales to incorporate meditation into the bedtime routine! This book was developed specifically for the purpose of improving children's sleep, which is a really cool concept to us. I'm sure we all know someone that would benefit from better sleep!"
—The Tiny Activist

"This book was carefully-created with good sleep and rest in mind, and was crafted to focus on calming imagery and relaxation techniques."
—LauraLemurex ASMR, YouTuber (165K subscribers)

"The pictures are really cool. Very mellow, the colors too, I really like that […] I think it's a super cool idea."
—Soft ASMR, YouTuber (101K subscribers)

"This is a beautiful, beautiful book […] I think this would be a wonderful book to read to a child. I think it'd be so helpful in getting them to fall asleep."
—Ashley Marie ASMR, YouTuber (94.4K subscribers)

"This is a children's book, but I feel like it's also so appropriate for adults, and just beautifully written […] This book is not just your average bedtime story—it's actually designed to make you drowsy, peaceful, and to drift off. I am so excited that a book like this exists."
—Ozley, YouTuber (71.1K subscribers)

"The pictures in this book are very calming and dreamy-like."
—Relax for a While, YouTuber (63K subscribers)

"The artwork is beautiful, with there being texture throughout the whole book […] I'm most excited because this book was created with sleep in mind, with helping readers and listeners fall asleep easily, which is something that you know is hard to achieve."
—ASMR Kitten, YouTuber (25.8K subscribers)
Flying Eye Books, 9781911171812, 96pp.
Publication Date: October 15, 2019
About the Author
Alice Gregory has studied the science of sleep for over a decade and has over 100 published articles in her name. She is the author of Nodding Off: The Science of Sleep from Cradle to Grave, which has been referenced broadly, from Allure to Chemistry World.
Christy Kirkpatrick worked in academic and educational publishing before becoming a freelance children's and educational writer. She has written books for parents, teachers and children for major publishers, and has a PhD in English from the University of London, exploring writing and publishing in the early twentieth century.

Eleanor Hardiman is an illustrator and designer from Bristol, UK. With a distinct, modern and clean illustrative style Eleanor has worked on a vast variety of national and international projects including magazine covers, book covers, promotional materials, packaging and illustrated windows.