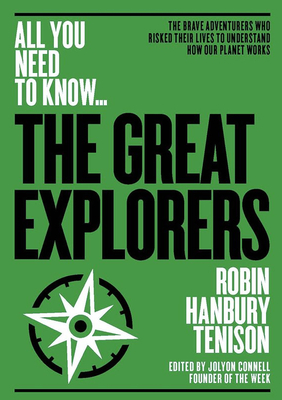 The Greatest Explorers (Paperback)
The brave adventurers who risked their lives to understand how our planet works (All you need to know)
Connell Publishing, 9781911187868, 128pp.
Publication Date: September 18, 2018
Other Editions of This Title:
Paperback (10/16/2018)
Hardcover (10/15/2010)
* Individual store prices may vary.
Description
Throughout history, a handful of unusually driven individuals have been inspired to explore the limits of the known world, inspiring us and changing our perceptions of our planet through their courageous adventures. What is it that makes these men and women risk their lives in desperate, often fatal efforts to discover distant and inaccessible places? Robin Hanbury-Tenison, himself one of the most distinguished explorers of the 20th century, looks at the greatest of their kind in history, bringing their experiences to life in vivid and compelling anecdotes and drawing on their own first-hand accounts. Among the explorers he features are some who are well known, like James Cook and David Livingstone, and some less so, such as Herodotus, the first European to record an expedition, and Nain Singh, who walked huge distances to map the forbidden lands of Tibet, counting every pace. And he asks: what was it, and is it, that motivates these unusual people? And how have they enriched our world through their adventures? 
About the Author
Robin Hanbury-Tenison is a well-known explorer, author, film-maker, conservationist and campaigner. Named by the Sunday Times in 1982 as 'the greatest explorer of the past 20 years' and in 1991 as one of the 1,000 'Makers of the 20th Century', he has been on over 30 expeditions. He has been Vice-President and Gold Medallist of the Royal Geographical Society. He has made several films of his expeditions and written many books. He was the editor of The Oxford Book of Exploration.
Praise For The Greatest Explorers: The brave adventurers who risked their lives to understand how our planet works (All you need to know)…
"The masterstroke of series editor Jolyon Connell lies in his enlistment of experts who maintain their literary verve and sharp opinions in short form."
- Daily Mail