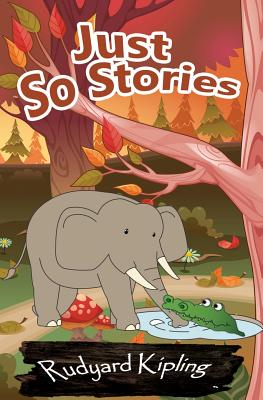 Just So Stories
Paperback

* Individual store prices may vary.
Other Editions of This Title:
Paperback (3/29/2020)
Paperback (12/7/2014)
Paperback (6/17/2018)
Paperback (12/8/2018)
Paperback (4/30/2018)
Paperback (8/27/2015)
Paperback (12/21/2015)
Paperback (4/14/2015)
Paperback (5/20/2020)
Paperback (2/18/2020)
Paperback (1/12/2012)
Paperback (12/21/2005)
Paperback (11/20/2018)
Paperback (12/12/2017)
Paperback (7/18/2020)
Paperback (4/3/2013)
Paperback (4/1/2020)
Paperback (4/7/2020)
Paperback (2/23/2020)
Description
Rudyard Kipling (1865-1936) was a versatile writer. He had success with novels such as Kim, many collections of poetry, and essays and articles for newspapers, especially in India. Today, eighty years after his death, Kipling is perhaps most appreciated as a writer of stories for children. The Jungle Book has been filmed many times. Stalky and Co., a story of school life, is still esteemed. But for many people, the crowning achievement is The Just So Stories. A delight for children. And for grown-ups too.
Emma Stern Publishing, 9781911224136, 118pp.
Publication Date: January 25, 2016
About the Author
Rudyard Kipling (1865-1936) was famous. In his lifetime, he received many honours, including the Order of Merit, and in 1907 was awarded the Nobel Prize for literature. He was ignored and even vilified for many years after his death in 1936. He was considered to be someone born in India who did not care about the local Indian people. Anybody who has read his work knows this opinion of Kipling is untrue. Kipling lived in India, Britain, in the United States and in South Africa but his heart was always in India. While Kipling was living with his wife and children in Rottingdean, Sussex, England, he wrote the Just So Stories. Each story is a perfect delight.