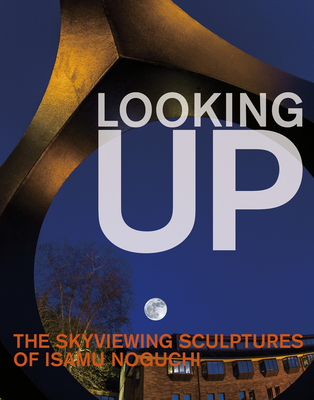 Looking Up
The Skyviewing Sculptures of Isamu Noguchi
Hardcover

* Individual store prices may vary.
Description
The Western Gallery is the site a major collection of outdoor sculpture, one of which - called Skyviewing Sculpture - by Noguchi forms the starting-off point of the exhibit, to be curated by Dakin Hart, Senior Curator of The Noguchi Museum, and the accompanying print publication loosely based on the exhibit, to be written by Dakin and Hafthor Yngvason. Director of the Western Gallery. Skyviewing is an important theme running through much of Noguchi's art, but thus far, it has never been explored in any depth. Noguchi made two major skyviewing sculptures, one at Western Gallery, and the other in Honolulu, but the theme of space and charting our place in the universe is also present in many of his other works. Whilst some of his sculptures act as observatories, encouraging viewers to enter and turn their gaze to the sky; others act as reflecting telescopes with polished stone or water that mirror the heavens; whilst others trace the path of the sun with cast shadows, or lead the eye upwards. The theme of charting the heavens is also relevant to a variety of other artworks by Noguchi, including his series of Jantar Mantar - Indian observatories - photographs taken during 1949 and 1960, which provide a background for Noguchi's interest, and the development of his Lunar and Akari light sculptures of the 1940s and '50s. The theme also provides an opportunity to place Noguchi in a new context of contemporary art; for example his shared interest with a younger generation of artists, such as Robert Smithson, Nancy Holt, James Turrell, and Charles Ross. Skyviewing is the starting point of Dakin's main essay, but he also addresses the theme more generally from the standpoint of space, and looking at our place in the universe, so as to broaden the print volume's appeal to a wider audience. In addition to the main illustrated essay by Dakin Hart, the volume will also feature a smaller secondary essay, a preface by a well-known artist inspire by the theme of skyviewing, together with up to 50 plates of Noguchi's skyviewing sculptures, artworks and photographs, a selection of which will be also accompanied by longer entries of approx. 300-400 words. These entries may appear opposite a plate, or beneath a plate, if the plate is landscape in format, running horizontally across the gutter. The essays will be accompanied by approx. 20 comparative images. Additional endmatter includes a selected bibliography and exhibition checklist, possibly also appendices.
Giles, 9781911282617, 132pp.
Publication Date: July 12, 2022