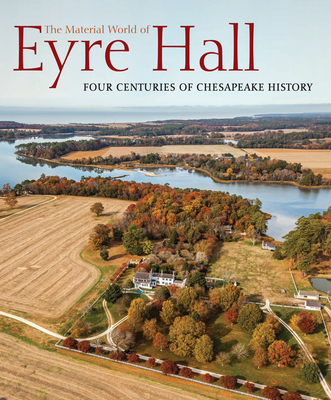 The Material World of Eyre Hall
Four Centuries of Chesapeake History
Paperback

* Individual store prices may vary.
Description
Erected in 1759 on the Eastern Shore of Virginia, Eyre Hall is still occupied by descendants of its builder. It retains a rich variety of objects from furniture and books to silver and paintings acquired by the family, reflecting the tastes and aspirations of its many different generations. Only a small handful of places in Virginia can claim such continuity. The material culture of Eyre Hall illustrates the everchanging meanings of this place in American culture from the seventeenth- through the twenty-first century. It represents the cultural endeavors of southern society that was built on slavery and suffered the tribulations of wars, emancipation, and economic depressions. This study explores the mutability of this inheritance in the wake of such transformative events. The book is divided into four sections. The first recounts the history of those who lived at Eyre Hall. The second examines the architecture of the house and its service buildings. The third explores the formal garden. The fourth section is a catalogue raisonn of its objects.
Giles, 9781911282914, 448pp.
Publication Date: September 7, 2021
About the Author
Edited by Carl R. Lounsbury, Senior Architectural Historian, Colonial Williamsburg Foundation (retired), Adjunct Associate Professor of History, College of William and Mary With an Introduction by Dr. Cary Carson, Senior Vice President of Research at Colonial Williamsburg, retired. Coontributions by Laura Barry, Bennie Brown, Edward Chappell, Sam Florer, Erik Goldstein, Haley Hoffman, Neal Hurst, Angelika Kuettner, Mark Letzer, Carl R. Lounsbury, George McDaniel, Katie McKinney, Elizabeth Palms, Margaret Pritchard, Sumpter Priddy, Will Rieley, Alexandra Rosenberg, Gary Stanton, Robert Watkins, and John Watson