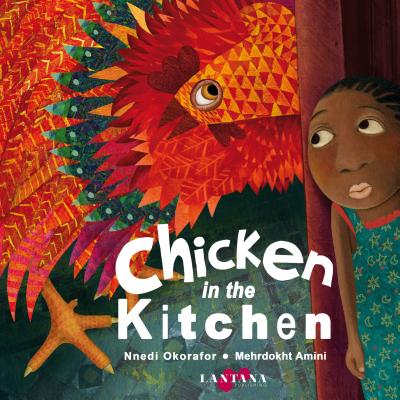 Chicken in the Kitchen
Hardcover

* Individual store prices may vary.
Description
What would you do if you woke up one night to find the shadow of a giant chicken passing your bedroom door? Go and investigate, of course
When Anyaugo follows a giant chicken into her kitchen one warm night in Nigeria, she embarks on a fun-filled adventure where nothing is quite as it seems. Is the nature spirit that lives in the wooden walls of her house a help or a hindrance? Is the mischievous giant chicken a friend or a foe? Most importantly, will Anyaugo be able to save the food her Aunties have cooked for the New Yam Festival the next day?
An entertaining look at the fascinating masquerade culture of West Africa, told from the perspective of a plucky young Nigerian girl who finds the courage to protect the traditions she loves.
WINNER of the Children's Africana Best Book Award 2016
"Okorafor leaps into the world of picture books in a most unforgettable way with this playful, fascinating tale"--Kirkus Reviews, STARRED
"My little boy wanted me to read it three times in a row. So yeah, I think my kids are in agreement on this: Five Stars"--Patrick Rothfuss, #1 New York Times bestselling author
Lantana Publishing, 9781911373155, 32pp.
Publication Date: September 1, 2017