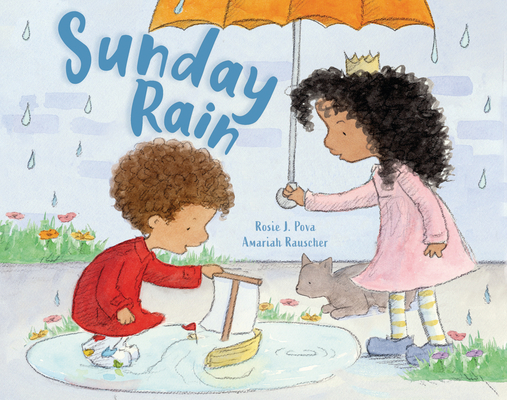 Sunday Rain
Hardcover

* Individual store prices may vary.
Description
An imaginative adventure for any child hoping to make a new friend, and for when a new place doesn't yet feel like home.
Elliott has just moved into a new house. He spends his days with his fictional friends, immersed in a book. When an inviting Sunday rain gathers the local kids to play in the puddles, Elliott longs to join in, but he's too shy to go outside. Soon, Elliott discovers that new friendships are like a new book--you just have to plunge into the adventure.
While a storm rages on the other side of the ship curtains at his bedroom window, Elliott buries himself in a book. A princess endlessly fights a dragon and a watercolor sea keeps 'swallowing the royal boat, ' with Elliott at the helm. Later, he peeks out shyly at two puddle-jumping children on the sidewalk. 'Make some friends while I finish unpacking, ' his mother urges. He joins them with a toy boat. Soon the S.S. Elliott is life-size, the puddles are an ocean and the dragon is a kite. Elliott's new house feels like home.--The New York Times Book Review, 8 Picture Books about Imagination and Identity
The imagination-fueled adventures will restore your faith in the kindness of kids--Parents Magazine, 5 Parents-Approved Children's Books to Read Right Now
"A quiet, sweet story blending common themes of moving, imagination, and friendship"--Kirkus Reviews
"A gorgeous book demonstrating perfectly, with understanding and empathy, the importance of gentle encouragement to face our fears and the positive effects which result from leaping right into life and right into those glorious, rainy day puddles "--Book Monsters
"Moving may be hard, but new places can offer friendly guides to worlds of adventure, if we're brave enough to seek them out "--Jennifer Broedel, children's author
Lantana Publishing, 9781911373971, 32pp.
Publication Date: March 2, 2021