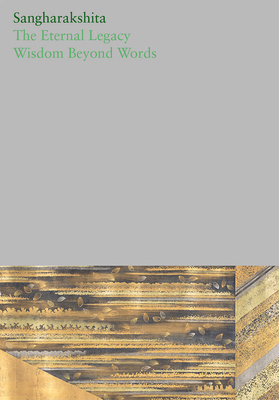 The Eternal Legacy /Wisdom Beyond Words (Complete Works of Sangharakshita)
Paperback

* Individual store prices may vary.
Description
This volume, which introduces the sequence of Complete Works volumes that include Sangharakshita's commentaries on a range of traditional Buddhist texts, begins with The Eternal Legacy, an introduction to the canonical literature of Buddhism, which succinctly and with great feeling gives the context for the commentaries to follow. Next comes Sangharakshita's talk 'The Glory of the Literary World', which considers how the Buddhist canon is to be approached, in a broad consideration of the literary traditions of both East and West. This is followed by an introduction to one of the earliest works of the Pali canon, the Udana, newly edited from a 1975 seminar for this Complete Works volume under the title Buddhism before Buddhism. Here we trace the Buddha's life from the period just after his Enlightenment to the time of his approaching death, and Sangharakshita (studying the text with members of what was in 1975 a very young Buddhist movement) draws out the newness and freshness of the Buddha's vision - so new, indeed, that words could scarcely be found to express it. And this volume concludes fittingly with Wisdom Beyond Words, Sangharakshita's much-loved commentary on several Perfection of Wisdom texts, another way of seeing how, in Asvaghosa's words, 'We use words to get free of words until we reach the pure wordless essence.'
Windhorse Publications (UK), 9781911407539, 728pp.
Publication Date: July 7, 2020