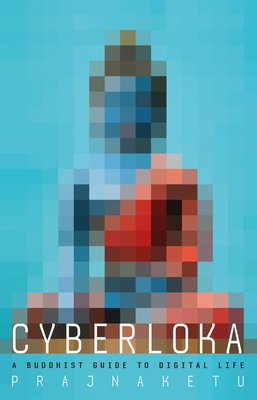 Cyberloka
A Buddhist Guide to Digital Life
Paperback

* Individual store prices may vary.
Description
"You started out with such good intentions. Maybe you were going to thank your auntie for her lovely gift. Or just check the forecast to see if you'll need an umbrella for later. But you've just spent the last half an hour scrolling down the comments on a video that's now a distant memory. Your shoulders are tense, your eyes are bleary, and you feel vaguely angry in a can't-quite-put-my-finger-on-it way. Oh, and you've just missed your bus stop."
This is the world of the cyberloka - the online realm in which so much of our lives now take place.
In this short, punchy and often funny book, Prajnaketu offers deep Buddhist insights that help us manage and flourish in the digital age. Going beyond questions of digital diet, he shows how our perception is shaped by being online, and how we can work with awareness and mindfulness as we negotiate hyperavailability, superstimulation and what and how to broadcast on social media. It also starts a long overdue conversation between Buddhist ethics and the world of pornography.
With vivid dialogue, a brilliant Facebook Sutta, and a positive imagination of human depth and potential, Prajnaketu offers practical wisdom and creative options for flourishing online. What kind of mind will you bring to your digital life? How you answer this question will mark the difference between mindlessly scrolling your way into old age, or making the most of this precious human life.
Windhorse Publications (UK), 9781911407928, 200pp.
Publication Date: November 1, 2022
About the Author
Prajnaketu was born Timothy Holden in 1985 in Southampton, England. A keen meditator from the age of sixteen, he began to embrace Buddhism while studying for a degree in mathematics and philosophy at the University of Oxford. After teaching mathematics in two challenging schools, he co-founded the Oxford Triratna Buddhist Centre, where he continues to work, and for five years ran a Europe-wide network of young Buddhists.He was ordained into the Triratna Buddhist Order in 2014 and given the name Prajnaketu, 'he who holds a lamp of wisdom'. Living with his partner in Oxford, he currently directs the Urgyen Sangharakshita Trust and is one of Sangharakshita's literary executors. He's at his most inspired when reflecting, writing, and teaching at the interface between Buddhism and twenty-first century life.