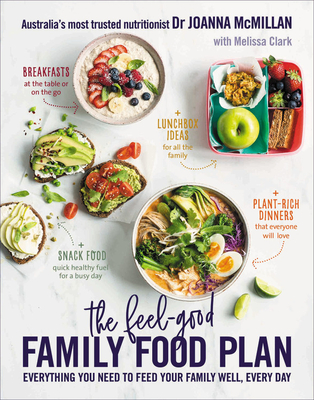 The Feel-Good Family Food Plan (Paperback)
Everything you need to feed your family well, every day
Murdoch Books, 9781911632498, 240pp.
Publication Date: June 2, 2020
* Individual store prices may vary.
Description
So many people are just plain confused over what exactly healthy eating is - should they be paleo or vegan? Are grains good or bad? Should they cut carbs? Is butter back on the menu? And how do I get my five-year-old to eat vegies? They're time-poor and want their family to eat well because they recognize it's the cornerstone of good health.

We're facing an obesity epidemic that experts predict will get worse, as long as we continue to spend time sitting in front of screens and eating processed, calorie-laden food. There's also compelling evidence for the power of sitting around a family table and eating together - even if just a couple of times a week - to model good eating habits for life for young children and teenagers. But what exactly does good family food look like?

Providing practical, simple solutions, easy to follow advice and expert tips, Dr. Joanna McMillan's Ultimate Family Food Plan is with you every step of the way as you get homemade, delicious meals on the table, even on the most hectic work/school days.
About the Author
Born in Scotland and now living in Sydney, Australia, Dr Joanna McMillan is a nutrition scientist with a background in academics and research. Her ever-growing following is the result of her high profile within the media, health and fitness industries. Having completed a Bachelor Degree in Science with First Class Honours in Nutrition and Dietetics in Scotland, Dr Joanna moved to Australia in 1999 and won a scholarship to complete her PhD with The University of Sydney. Dr Joanna is the founder of Get Lean, an online lifestyle change program, and a regular on television and radio.
Mel Clark makes really delicious food - for companies, for private clients, and for friends and family. A professionally trained caterer, Mel has worked with clients both in Australia and internationally, including Nestle and Vitamix.