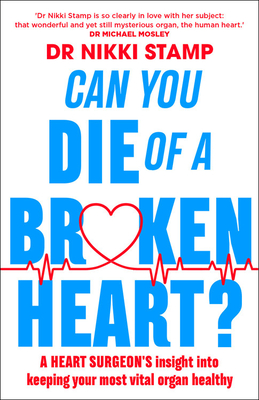 Can You Die of a Broken Heart? (Paperback)
A heart surgeon's insight into keeping your most vital organ healthy
Murdoch Books, 9781911632542, 224pp.
Publication Date: March 3, 2020
Other Editions of This Title:
Paperback (7/2/2019)
MP3 CD (6/5/2018)
* Individual store prices may vary.
Description
When actress Debbie Reynolds died a day after her beloved daughter, Carrie Fisher, the world diagnosed it as 'heartbreak'. But what's the evidence? Does emotional upheaval affect the heart? Can love, or chocolate, really heal our heart problems? And why do we know so much about heart attacks in men, when they are more fatal in women?

Heart and lung surgeon Dr. Nikki Stamp takes us into the operating theatre, explaining what she sees in patients with heart complications and how a life-saving transplant works. Stamp fell in the love with the heart as a child and continues to be fascinated by its workings and the whole-of-life experiences that affect it. Rich with anecdotes, and insights for maintaining heart health, Can You Die of a Broken Heart? is a blockbuster from a uniquely positioned young specialist.
About the Author
Dr Nikki Stamp, FRACS, is a cardiothoracic surgeon, one of only 11 female heart surgeons in Australia. Her clinical work is at the forefront of cardiothoracic surgery, including transplants and congenital heart disease. She has a particular interest in women's heart disease and how the medical system can better serve female patients. Nikki is the author of Can You Die of a Broken Heart?, which has been translated into 7 languages, and Pretty Unhealthy. She has hosted heart health episodes for Australia's flagship science TV program Catalyst as well as hosting Operation Live, in which she commentated a live caesarean birth and live open-heart surgery.