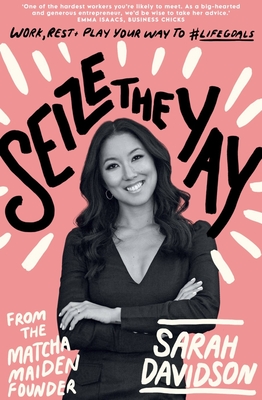 Seize the Yay (Paperback)
Work, rest and play your way to #lifegoals, from Matcha Maiden Founder Sarah Holloway
Murdoch Books, 9781911632924, 304pp.
Publication Date: October 6, 2020
* Individual store prices may vary.
Description
Kick goals in your business or career and stay happy in the process - Seize the Yay show you how to do both.

There are so many wellness and business titles on the market, but not many which share the journey to happiness and fulfillment through running your own business . At least, not without collapsing in an overstressed heap.

A well-known entrepreneur and Founder of Matcha Maiden green tea, Sarah Holloway started her first business after suffering from a case of complete adrenal exhaustion. As a young lawyer looking for a caffeine-free fix to supplement her serious coffee habit, she ordered ten kilos of tea from Japan by accident. Starting up a side hustle to shift the nine kilos she didn't need, Matcha Maiden was soon born. It is now a multi-million-dollar company with success in various markets.

With no background in the area, business experience, family money or investment behind them, Sarah and her partner built Matcha Maiden from scratch. Here, Sarah shares how it can be done without losing your joy or sense of appreciation for the journey. Sharing practical tips and life advice to help you realize your own business dreams while staying grounded and well, Seize the Yay is your one-stop shop for achieving millennial success.
About the Author
The Founder of Matcha Maiden and host of the Seize the Yay podcast, Sarah Holloway is passionate about supporting others to help them find what makes them feel 'yay'. Her message is about fighting typical A-type tendencies towards success and perfection, and learning to enjoy the ride.