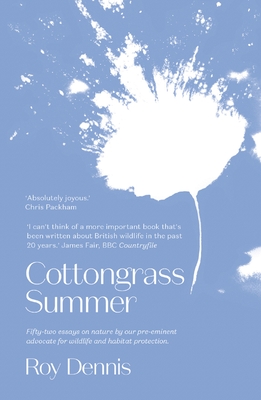 Cottongrass Summer
Essays of a Naturalist Throughout the Year
Paperback

* Individual store prices may vary.
Description
A collection of vibrant essays on climate change, and conservation to inform, stimulate and call every nature lover to action.
"I can't think of a more important book that's been written about British wildlife in the past 20 years ... Roy Dennis is] the UK's pre-eminent conservationist of the past half century .." BBC Countryfile Magazine
Through unparalleled expertise as a field naturalist, Roy Dennis is able to write about the natural world in a way that considers both the problems and the progress in ecology and conservation. Beginning with cottongrass, whose snow-white blooms blow gently in the wind across the wetter moors and bogs, this is a year-round trove of insight and knowledge for anyone who cares about the natural world, from birdsong and biodiversity to sphagnum and species reintroduction.
Written by one of the UK's most prominent advocates for rewilding, the essays have a clear message: Never give up on trying to conserve and restore wildlife and the wild places you cherish. It's essential to try and to succeed. And remember, it's never "if," but "when," and with climate chaos closing in, the time is now.
Saraband, 9781912235889, 176pp.
Publication Date: May 10, 2022
About the Author
Roy Dennis is one of the UK's most prominent field naturalists. His approach to wildlife and conservation stems from years of experience working in the field, from climbing trees to ring osprey chicks to handling lynx kittens in Norway - and wanting to smuggle them back to Scotland. His Wildlife Foundation of 25 years' standing is internationally recognised for its work in conservation and wildlife protection.