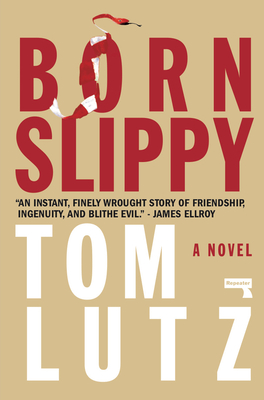 Born Slippy
Paperback

* Individual store prices may vary.
Description
A provocative, globe-trotting, time-shifting novel about the seductions of -- and resistance to -- toxic masculinity.

"Frank knew as well as anyone how stories start and how they end. This fiery mess, or something like it, was bound to happen. He had been expecting it for years."

Frank Baltimore is a bit of a loser, struggling by as a carpenter and handyman in rural New England when he gets his big break, building a mansion in the executive suburbs of Hartford. One of his workers is a charismatic eighteen-year-old kid from Liverpool, Dmitry, in the US in the summer before university. Dmitry is a charming sociopath, who develops a fascination with his autodidactic philosopher boss, perhaps thinking that, if he could figure out what made Frank tick, he could be less of a pig. Dmitry heads to Asia and makes a neo-imperialist fortune, with a trail of corpses in his wake. When Dmitry's office building in Taipei explodes in an enormous fireball, Frank heads to Asia, falls in love with Dmitry's wife, and things go from bad to worse.

Combining the best elements of literary thriller, noir and political satire, Born Slippy is a darkly comic and honest meditation on modern life under global capitalism.
Praise For Born Slippy…
"A highly literary and always engaging 21st century noir... Born Slippy confronts contemporary
questions about the relativity of evil that no one can dodge."— Chris Kraus, author of I Love Dick and After Kathy Acker.

"Lutz has the seven deadly sins nailed and rethought for our 2020 world. You've got to dig this book!" — James Ellroy

"Tom Lutz has written the kind of novel a globetrotting Graham Greene might have written had he lived to trot around our contempo, gone-to-hell globe - now divided into neo-imperialist sociopathic zillionaires, and the rest of us. Born Slippy is smart, dark, funny and, best of all, what used to be called a real page-turner. You'll love this book." — Jerry Stahl, author of Permanent Midnight, I, Fatty, and Old Guy Dad

"A smart and propulsive wild ride from the genteel mansions of Hartford Connecticut to the more louche corners of Asia. Lutz's debut is a technicolor noir, a smart, literary and literate thriller—like love child of Elmore Leonard and Graeme Greene. Original and deft and not to be missed." — Ivy Pochoda, author of Wonder Valley and Visitation Street

"What a pleasure, to sink under the comedic spell of Tom Lutz's debut novel! The perfect book for a dreary day-- a gleeful, twisty tale of an unlikely friendship. Its antagonist young bloviating Dmitry Heald, with his wild schemes and hair-raising tales, is the guy you can't trust to go to the market, while the older Frank, his boss, is a man who should know better, and yet can't resist. Infinitely entertaining. I'd put it on the shelf between Tom Robbins and Martin Amis, if a place can be cleared there." — Janet Fitch, author of The Revolution of Marina M. and Chimes of a Lost Cathedral

"Born Slippy is a whip-smart, whirlwind novel of noir and adventure, humor and horror, cynicism and romance. Lutz's sterling prose and love of literature light up this unique page-turner about the friendship between a man who would be good and the amoral, magnetic narcissist who comes to dominate his life story." — Steph Cha, author of Your House Will Pay

"An entertaining neo-noir about the wages of greed." — Kirkus Reviews

"Tom Lutz comes out fast, deep and fully equipped with a mesmerizing debut novel. Every page twists and turns with incredible developments, literary prowess, daring routes and mind-stretching adventures. A task and crew of characters few can take head on and ride all the way to the last thrilling pages. Born Slippy won't slip by the prizes." — Juan Felipe Herrera, US Poet Laureate 2015-17

Repeater, 9781912248643, 310pp.
Publication Date: January 14, 2020
About the Author
Tom Lutz is the author of, amongst others, And the Monkey Learned Nothing, Drinking Mare's Milk on the Roof of the World and Crying, which have been translated into a dozen languages, and several of which have been named New York Times Notable Books. His Doing Nothing won the American Book Award. He is the founding editor of the Los Angeles Review of Books. This is his first novel.
or
Not Currently Available for Direct Purchase