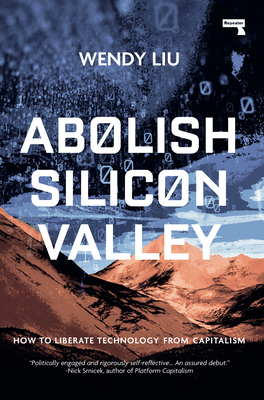 Abolish Silicon Valley (Paperback)
How to Liberate Technology from Capitalism
Repeater, 9781912248704, 244pp.
Publication Date: April 14, 2020
* Individual store prices may vary.
Description
Former insider turned critic Wendy Liu busts the myths of the tech industry, and offers a galvanising argument for why and how we must reclaim technology's potential for the public good.

Innovation. Meritocracy. The possibility of overnight success. What's not to love about Silicon Valley?

These days, it's hard to be unambiguously optimistic about the growth-at-all-costs ethos of the tech industry. Public opinion is souring in the wake of revelations about Cambridge Analytica, Theranos, and the workplace conditions of Amazon workers or Uber drivers. It's becoming clear that the tech industry's promised "innovation" is neither sustainable nor always desirable.

Abolish Silicon Valley is both a heartfelt personal story about the wasteful inequality of Silicon Valley, and a rallying call to engage in the radical politics needed to upend the status quo. Going beyond the idiosyncrasies of the individual founders and companies that characterise the industry today, Wendy Liu delves into the structural factors of the economy that gave rise to Silicon Valley as we know it. Ultimately, she proposes a more radical way of developing technology, where innovation is conducted for the benefit of society at large, and not just to enrich a select few.
About the Author
Wendy Liu is a software engineer and former startup founder who left the tech industry to pursue a masters degree in inequality from the London School of Economics. She is currently working on a print publication devoted to tech worker organising in Silicon Valley.
Praise For Abolish Silicon Valley: How to Liberate Technology from Capitalism…
"Lucid, probing and urgent. Wendy Liu manages to be both optimistic about the emancipatory potential of tech and scathing about the industry that has harnessed it for bleak and self-serving ends." — Naomi Klein, author of On Fire: The Burning Case for a Green New Deal

"Astute, accessible, and driven by the author's wealth of personal insight, Abolish Silicon Valley is a riveting read and a compelling contribution to contemporary debates. I devoured it in a single sitting." —Helen Hester, author of Xenofeminism

"Politically-engaged and rigorously self-reflective, Liu calls not just for the eradication of tech culture as we know it, but for the radical reinvention of innovation, work, and automation in the name of the collective interest. This is an assured debut which deserves to find a wide audience." — Nick Srnicek, author of Platform Capitalism