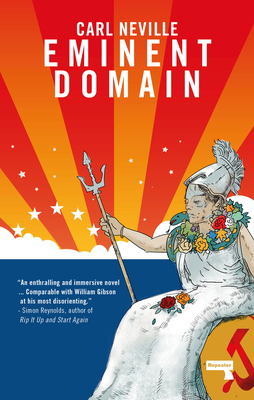 Eminent Domain
Paperback

* Individual store prices may vary.
Description
In the Socialist Utopia of the People's Republic of Britain a routine criminal investigation spirals out of control with world-shattering consequences.

The Cold War ended thirty years ago, the Communists have won in Europe and the world has settled into two blocks divided by a silicon curtain, The Partition.

The tranquil backwater of the People's Republic of Britain is due to host an international sporting event, the Games, and celebrate the twenty-fifth anniversary of the country becoming a republic. When the organiser of the Games dies suddenly and his office is broken into, Barrow, the retired security operative enlisted to investigate, is drawn into a conspiracy that has implications not only for him and his team of young and inexperienced assistants, but for their entire way of life.

How is the American research student Julia Verona implicated? Is some kind of attack being planned? Who is really in command of the operation? Is there a double agent within the PRBs security apparatus? What is the significance of the reclusive novelist Vernon Crane?

Fusing the trappings of a literary thriller with experimental style, Eminent Domain explores the art, culture, politics, personalities, conflicts, loves and losses of a range of boldly realised characters in a Utopian world radically different to our own but recognizably the way that things, at one time, might have been.

A kaleidoscopic satire of our present moment, Eminent Domain is both a dark thriller and a radical neo-modernist experiment that probes at the limits of Utopia, a formally dazzling reimagining of the political novel in which lives, worlds and even realities collide to devastating effect.
Praise For Eminent Domain…
"In this gripping, witty and richly detailed science fiction, Carl Neville shows us a parallel Britain forged out of political uprisings and economic transformation. The governing ideology is from another world, but the technology and culture are unmistakeably ours." - William Davies, author of The Happiness Industry

"Eminent Domain is that rare thing — a near-utopian version of the present more advanced and progressive than our own, rendered with a level of vivid and intricate detail comparable with William Gibson at his most disorienting." - Simon Reynolds, author of Energy Flash and Rip It Up and Start Again

"What if the future we were promised had really arrived? Carl Neville's pacey, compelling thriller plays out against the complexities, contradictions and conflicts of a world that might have been and points the way to one that might yet arrive." - Grace Blakeley, author of Stolen

"Sound art, free beer and acid communism meet in Carl Neville's brilliantly imagined political thriller." - The Quietus
Repeater, 9781912248834, 460pp.
Publication Date: June 9, 2020
About the Author
Carl Neville's books include the novels Jessica: A Cautionary Tale, White Diaspora and Resolution Way, and non-fiction titles Classless and No More Heroes. He is currently film critic for Tribune.
or
Not Currently Available for Direct Purchase