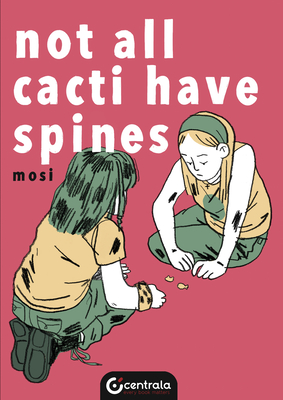 Not All Cacti Have Spines (Life)
Hardcover

* Individual store prices may vary.
Description
Just like a house plant, friendship is something that needs to be taken care of to keep it alive. Lu sa and Rita have been best friends since they can remember, but as they get older, something begins to threaten their bond. What does it mean to know someone? What does it take to keep our memories true? Spineless Cactus is a short story about friendship, plants, growing up but also growing apart.
'Lu sa and I met in primary school and we're best friends since then. We have always been a little different, that's why I think we complement each other. But I like to believe that I know her better than anyone. Lu sa brought a lily that day. And she wasn't wearing earrings.'
Centrala, 9781912278343, 24pp.
Publication Date: March 28, 2023
About the Author
Joana Mosi (1994) is a visual artist, author, and educator. She graduated in Painting from the Faculty of Fine Arts of Lisbon and is currently finishing her master's degree in Film. She has authored a number of comic books, some of which have won distinctions, including the autobiographical mini series Altemente (ComicHeart, 2016) and Spineless Cactus (2017, Octopus). In 2020, she was included in the international anthology Kus, with the project "Everything's Gonna Be Okay". In the last two years, Joana has focused a large part of her activity on initiatives and projects related to comics, education and literacy. She has collaborated with several institutions, including the National Reading Plan and the international projects ReadON and Comics for Education (KUS). She was the coordinator of the Concept Art course at ETIC, in Lisbon, for three years and is the present Comics teacher at Nextart, also in Lisbon. Since 2020 she has been collaborating with The Animation Workshop in Viborg (Denmark).