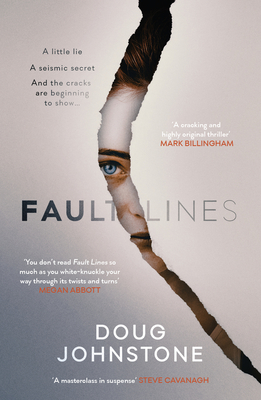 Fault Lines (Paperback)
Orenda Books, 9781912374151, 300pp.
Publication Date: November 1, 2018
* Individual store prices may vary.
Description
In a reimagined contemporary Edinburgh, in which a tectonic fault has opened up to produce a new volcano in the Firth of Forth, and where tremors are an everyday occurrence, volcanologist Surtsey makes a shocking discovery. On a clandestine trip to The Inch—the new volcanic island—to meet Tom, her lover and her boss, she finds his lifeless body, and makes the fatal decision to keep their affair, and her discovery of his corpse secret. Desperate to know how he died, but also terrified she'll be exposed, Surtsey's life quickly spirals into a nightmare when someone makes contact—someone who claims to know what she's done.
About the Author
Doug Johnstone is the author of eight novels, including Gone Again and The Jump, which was a finalist for the McIlvanney Prize for Scottish Crime Novel of the Year. Doug has released seven albums in various bands, reviews books for Big Issue magazine, is player-manager for Scotland Writers Football Club, and has a PhD in nuclear physics.
Praise For Fault Lines…
"A superb, highly original psychological chiller. Fault Lines is a masterclass in suspense." —Steve Cavanagh, author, The Defense


"a cracking-good thriller with some seriously good writing and some beautifully designed characters…Downright brilliant." —Booklist
"A cracking and highly original thriller. Johnstone never fails to deliver." —Mark Billingham, author, Lazybones


"An original and addictive thriller, Fault Lines is as intelligent as it is shocking." ​—Foreword Reviews
'You don't read Fault Lines so much as you white-knuckle your way through its twists and turns, toward its thrilling end, your breath held and your nerves tingling. And it's as psychologically rich as it is harrowing. I've come to expect nothing less from Doug Johnstone, one of the genre's premiere writers." —Megan Abbott, author, You Will Know Me
"Richly characterised, beautifully crafted, this is a book that you truly inhabit." —Emma Kavanagh
"Sexy, fearless and addictive." —Helen FitzGerald
"Johnstone is Scotland's truest exponent of noir. He writes novels that are punchy, fast-paced and sometimes gruellingly dark; unflinchingly challenging his readers by taking them to places that are emotionally and ideologically uncomfortable." —Chris Brookmyre
 
"Johnstone weaves his compelling and original tale with great skill and elegance from the gripping beginning to a tense and explosive ending." —Amanda Jennings
"A subtly off-kilter speculative thriller that builds to a truly explosive ending." —Eva Dolan
"A pacey, gripping read." —Louise Voss
"Brilliantly unputdownable." —Martyn Waites