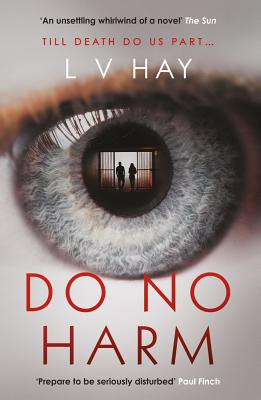 Do No Harm (Paperback)
Orenda Books, 9781912374212, 300pp.
Publication Date: February 1, 2019
* Individual store prices may vary.
Description
Till death do us part…

After leaving her marriage to jealous, possessive oncologist Maxwell, Lily and her six-year-old son have a second chance at happiness with headteacher Sebastian. Kind but vulnerable, Sebastian is the polar opposite of Maxwell, and the perfect match for Lily. After a whirlwind romance, they marry, and that's when things start to go wrong…
Maxwell returns to the scene, determined to win back his family, and events soon spiral out of control. Lily and Sebastian find themselves not only fighting for their relationship, but also their lives…
Chilling, dark and terrifying, Do No Harm is a taut psychological thriller and a study of obsession, from one of the most exciting new voices in crime fiction.


'Well written, engrossing and brilliantly unique' <i>Heat</i>

'Prepare to be surprised' Closer

'A claustrophobic and complex read' Culture Fly

'Sharp, confident writing' Peter James

'Wonderfully layered and gripping' Jendella Benson

'I couldn't put it down' Paula Daly

'Propulsive, inventively and purely addictive' Crime by the Book

'Intense and pacy' Mari Hannah

'Wrong-foots you in ALL the best ways' Caz Frear

'Original, daring and emotionally truthful' Paul Burston

'Slick and compulsive' Random Things through My Letterbox

'Crackles with tension' Karen Dionne

'A contemporary thriller with a heart of darkness' Live and Deadly

'Dark, compelling, twisted, thought-provoking and emotional' Chapter in My Life
About the Author
Lucy V. Hay is a novelist, script editor and blogger who helps writers via her Bang2write consultancy. She is the associate producer of Brit Thrillers Deviation (2012) and Assassin (2015), both starring Danny Dyer. Lucy is also head reader for the London Screenwriters' Festival. She has written a number of non-fiction books: including Writing & Selling Thriller Screenplays, Drama Screenplays, and, most recently, Writing Diverse Characters For Fiction, TV & Film. She is also the author of 'The Intersection Series' of Young Adult novels. Her psychological thrillers The Other Twin and Do No Harm were both number-one bestsellers in ebook. Lucy lives in Devon with her husband, three children, five cats and five African Land Snails.
Praise For Do No Harm…
"As dark and twisty as the Brighton Lanes." —Peter James 
"Crackles with tension." —Karen Dionne, author, The Marsh King's Daughter
"From the cover to the title to the set-up to the ending, this will wrong-foot you in ALL the best ways." —Caz Frear, author, Sweet Little Lies 
"The twists and red herrings involved in finding out what's going on add up to a fine mystery. This is the second adult novel (after The Other Twin, 2017) by screenwriter and nonfiction author Hay, who is a writer to watch and one to recommend to fans of Gillian Flynn." —Booklist
"A fine mystery...[Hay] is a writer to watch." - Booklist