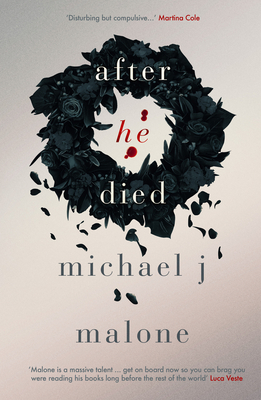 After He Died (Paperback)
Orenda Books, 9781912374335, 276pp.
Publication Date: March 1, 2019
* Individual store prices may vary.
Description
A stunningly moving and explosive psychological thriller from the international bestselling author of A Suitable Lie

'Disturbing but compulsive … I loved it' Martina Cole

'Bristling with unease, this is domestic noir at its very darkest, twisting the marriage thriller into a new and troubling shape' Eva Dolan

'Vivid, visceral and compulsive' Ian Rankin

You need to know who your husband really was…

When Paula Gadd's husband of almost thirty years dies, just days away from the seventh anniversary of their son, Christopher's death, her world falls apart. Grieving and bereft, she is stunned when a young woman approaches her at the funeral service, and slips something into her pocket. A note suggesting that Paula's husband was not all that he seemed…

When the two women eventually meet, a series of revelations challenges everything Paula thought she knew, and it becomes immediately clear that both women's lives are in very real danger.<br><br>Both a dark, twisty slice of domestic noir and taut, explosive psychological thriller, After He Died is also a chilling reminder that the people we trust the most can harbour the deadliest secrets…

'A stark, gripping storyline' Scots

'It's a tough high-wire act, balancing believability with surprise, but the author pulls it off with aplomb. Excellent stuff' Doug Johnstone, The Big Issue

'A fine, page-turning thriller' Daily Mail

'Original, engrossing and scary' The Times

'A chilling read that kept me turning the pages' CrimeSquad

'The story twists and feints, pulling us along with it at every turn' Herald Scotland

'Brilliantly creepy' Daily Record

'Genuinely shocking' Crime by the Book

'Delightfully disturbing' Chapter in My Life

'A beguiling, engrossing read' Mrs Bloggs

'Michael Malone has a way of telling a story that just leaves you more than a little disturbed yet breathless with admiration' Live and Deadly

'Enthralling, wonderful, intense, full of suspense and twists that had my head in a spin! Crime Book Junkie

'Michael J. Malone is quickly making his way up my list of favourite authors' Always Trust in Books
About the Author
Michael Malone is a prize-winning poet and author who was born and brought up in the heart of Burns' country. He has published over 200 poems in literary magazines throughout the UK, including New Writing Scotland, Poetry Scotland and Markings. Blood Tears, his bestselling debut novel won the Pitlochry Prize from the Scottish Association of Writers. Other published work includes: Carnegie's Call; A Taste for Malice; The Guillotine Choice; Beyond the Rage; The Bad Samaritan and Dog Fight. His psychological thriller, A Suitable Lie, was a number-one bestseller, and the critically acclaimed House of Spines and After He Died soon followed suit. A former Regional Sales Manager (Faber & Faber) he has also worked as an IFA and a bookseller. Michael lives in Ayr.
Praise For After He Died…
"A dark and unnerving psychological thriller that draws you deep into the lives of the characters and refuses to let go. This is a brilliantly written book; I could not put it down." —Caroline Mitchell, author, Silent Victim
"British author Malone (Blood Tears) paints a moving and plausible portrait of a deeply troubled marriage in this thriller set in Scotland in 1996." —Publishers Weekly on A Suitable Lie
"There is so much bubbling under the surface in After He Died. J. . . The suspense escalates until the final crescendo. . . .  There are also some powerful social messages here. An insight into independent advocacy services created a sense of realism and kept the plot grounded. . . . Well researched, well written and well done!" —Off-the-Shelf Books
"This is addictive reading at its best complimented by short, sharp chapters that I adore! I was desperate to find out the truth alongside Paula but also not wanting the brilliantly complex story to end. Malone has crafted interesting and well-rounded characters who come alive off the page … After He Died certainly keeps it's reader on the edge of their seat throughout with its twists and turns. It certainly had me guessing throughout and I truly cannot get enough of this author's writing. Another brilliant read from Michael J. Malone." —Have Books Will Read
"Stinging, compelling, dynamic… excellent … There is an immediacy, a powerful edge to the storyline that feels so very real and wonderfully different too. Glasgow sits centre stage, vibrantly punchy and full of life. Michael J. Malone has created a dramatic and thrilling family tale that just sings with intensity. I thoroughly enjoyed picking my way along the razor wire of uncertainty that my thoughts and feelings teetered on. After He Died is an explosive tale, one that takes hold, bites, and doesn't let go." —LoveReading