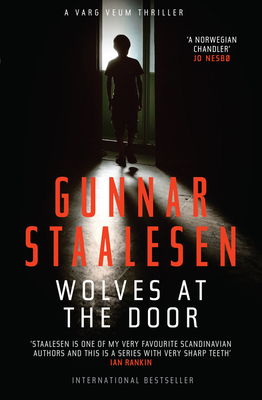 Wolves at the Door (Varg Veum Series) (Paperback)
Orenda Books, 9781912374410, 276pp.
Publication Date: January 1, 2020
Other Editions of This Title:
MP3 CD (10/8/2019)
* Individual store prices may vary.
Description
The wolves are no longer in the dark … they are at his door. And they want vengeance…

The next instalment in the international, bestselling Varg Veum series by one of the fathers of Nordic Noir …

'Gunnar Staalesen is one of my very favourite Scandinavian authors. Operating out of Bergen in Norway, his private eye, Varg Veum, is a complex but engaging anti-hero. Varg means "wolf" in Norwegian, and this is a series with very sharp teeth' Ian Rankin

'The Norwegian Chandler' Jo Nesbø

One dark January night a car drives at high speed towards PI Varg Veum, and comes very close to killing him. Veum is certain this is no accident, following so soon after the deaths of two jailed men who were convicted for their participation in a case of child pornography and sexual assault … crimes that Veum himself once stood wrongly accused of committing.

While the guilty men were apparently killed accidentally, Varg suspects that there is something more sinister at play … and that he's on the death list of someone still at large.

Fearing for his life, Veum begins to investigate the old case, interviewing the victims of abuse and delving deeper into the brutal crimes, with shocking results. The wolves are no longer in the dark … they are at his door.
 
'Not many books hook you in the first chapter – this one did, and never let go!' Mari Hannah
 
'Staalesen continually reminds us he is one of the finest of Nordic novelists' Financial Times

'Chilling and perilous results — all told in a pleasingly dry style' The Sunday Times

'Staalesen does a masterful job of exposing the worst of Norwegian society in this highly disturbing entry' Publishers Weekly

'With an expositional style that is all but invisible, Staalesen masterfully compels us from the first pages … If you're a fan of Varg Veum, this is not to be missed, and if you're new to the series, this is one of the best ones. You're encouraged to jump right in, even if the Norwegian names can be a bit confusing to follow' Crime Fiction Lover
 
'With short, smart, darkly punchy chapters Wolves at the Door is a provocative and gripping read' LoveReading

'Haunting, dark and totally noir, a great read' New Books Magazine
About the Author
One of the fathers of the Nordic Noir genre, Gunnar Staalesen made his debut at the age of 22 with Seasons of Innocence and in 1977 he published the first book in the Varg Veum series. His books have been published in 26 countries and sold over five million copies. Twelve film adaptations of his Varg Veum crime novels have appeared since 2007, with a further series currently being filmed. Staalesen has won three Golden Pistols (including the Prize of Honour) and the Petrona Award, and been shortlisted for the CWA Dagger.
Praise For Wolves at the Door (Varg Veum Series)…
"This is a series with very sharp teeth." —Ian Rankin
"A Norwegian Chandler." —Jo Nesbø
"Terrific. . . .Like Raymond Chandler, Staalesen creates intense emotion through dialogue and description, but his altogether Norwegian focus forces home a substantial social message: ignoring the past is inevitably tragic." —Publishers Weekly starred review of Big Sister
"Chilling and perilous results—all told in a pleasingly dry style." —Sunday Times
"Staalesen continually reminds us he is one of the finest of Nordic novelists." —Financial Times
"Not many books hook you in the first chapter—this one did, and never let go!" —Mari Hannah, author, The Insider
"Almost forty years into the Varg Veum odyssey, Staalesen is at the height of his storytelling powers." —Crime Fiction Lover
 
"Raymond Chandler fans won't want to miss this one." — Publishers Weekly
"A strong dose of noir." — Booklist
"an excellent noir thriller." — Foreword Reviews