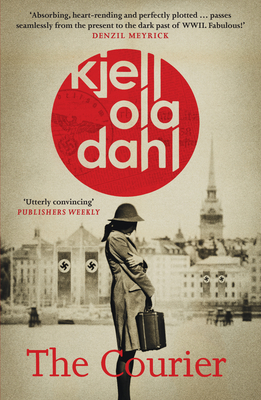 The Courier (Paperback)
Orenda Books, 9781912374434, 276pp.
Publication Date: October 1, 2019
Other Editions of This Title:
Hardcover (10/1/2019)
* Individual store prices may vary.
Description
The international bestselling godfather of Nordic Noir takes on one of the most horrific periods of modern history, in a stunning standalone thriller … NUMBER ONE BESTSELLER

'The Courier is a stylish stand-alone thriller from the godfather of Scandi noir … Ola Dahl ratchets up the tension from the first pages and never lets go' The Times

'Cleverly braiding together past and present, the who and why of murder and betrayal are unpicked. The detail is impressive' Daily Mail

In 1942, Jewish courier Ester is betrayed, narrowly avoiding arrest by the Gestapo. In a great haste, she escapes to Sweden, saving herself. Her family in Oslo, however, is deported to Auschwitz. In Stockholm, Ester meets the resistance hero, Gerhard Falkum, who has left his little daughter and fled both the Germans and allegations that he murdered his wife, Åse, who helped Ester get to Sweden. Their burgeoning relationship ends abruptly when Falkum dies in a fire.

And yet, twenty-five years later, Falkum shows up in Oslo. He wants to reconnect with his daughter. But where has he been, and what is the real reason for his return? Ester stumbles across information that forces her to look closely at her past, and to revisit her war-time training to stay alive…

Written with Dahl's trademark characterization and elegant plotting, The Courier sees the hugely respected godfather of Nordic Noir at his best, as he takes on one of the most horrific periods of modern history, in an exceptional, shocking thriller.

'Absorbing, heart-rending and perfectly plotted. Kjell Ola Dahl's The Courier passes seamlessly from the present to the dark past of WWII. Fabulous!' Denzil Meyrick
 
'Skilfully juggling three Oslo timelines — in 1942, 1967 and 2015 — Dahl starts his story with Germany's occupation of Norway and the work of those who tried to resist, then brings his characters forward to a post-war unravelling of what really happened in those dangerous days — and the traumatic rewriting of personal stories' The Times Crime Club
 
'The Courier is very good on the socio-political situation of the time, the relationship between Norway and neutral neighbour Sweden. This is a gritty but ultimately uplifting story. Superbly translated by Don Bartlett' NB Magazine

'A fascinating, intricate, provocative read, set in motion by events in 1942, and brilliantly highlighting human need and emotions … told and translated so beautifully, each moment opens into the other as a series of doors that you just need to open and walk through. 'The Courier' sent a shiver coursing through me, it is a truly eloquent and rewarding tale, and oh that ending!' LoveReading

'Written with Dahl's trademark characterisation and clever plotting, The Courier sees one of Norway's most critically acclaimed authors at his best … This stunning and compelling wartime thriller is reminiscent of the writing of John Le Carré and William Boyd' New Books Magazine

'Utterly convincing' Publishers Weekly

'Kjell Ola Dahl's novels are superb. If you haven't read one, you need to – right now' William Ryan

'More than gripping' European Literature Network

'The perfect example of why Nordic Noir has become such a popular genre' Reader's Digest
 
'It all comes together, of course, in the kind of masterful, detailed plotting that Dahl is known for. The events are shocking, but familiar given the number of novels set in and around World War II, but the power of The Courier is how Dahl has given a complex, human face to such an inhuman tragedy' Crime Fiction Lover

'Atmospheric thriller with lots of great twists and loved the scandi wartime story in particular. Gripping will be recommending to readers' Edgy Books
About the Author
One of the fathers of the Nordic Noir genre, Kjell Ola Dahl made his debut in 1993, and has since published 11 novels, including the Oslo Detectives series. In 2000 he won the Riverton Prize for The Last Fix and he won both the prestigious Brage and Riverton Prizes for The Courier in 2015. His work has been published in 14 countries.
Praise For The Courier…
"Excellent . . . Fans of Scandinavian noir will be eager for Dahl's next book." —Publishers Weekly starred review of The Ice Swimmer
"Superb . . . The translator's stripped-down, muscular prose is a plus." —Publishers Weekly starred review of Faithless
'The Courier is a stylish stand-alone thriller from the godfather of Scandi noir … Ola Dahl ratchets up the tension from the first pages and never lets go." —Times
"A chilling novel about betrayal." —Sunday Times
"The perfect example of why Nordic Noir has become such a popular genre." —Reader's Digest
"More than gripping." —European Literature Network
"If you have never sampled Dahl, now is the time to try." —Daily Mail
"Kjell Ola Dahl's novels are superb. If you haven't read one, you need to—right now." —William Ryan, author, Holy Thief
"Skilfully juggling three Oslo timelines — in 1942, 1967 and 2015 — Dahl starts his story with Germany's occupation of Norway and the work of those who tried to resist, then brings his characters forward to a post-war unravelling of what really happened in those dangerous days — and the traumatic rewriting of personal stories." —Times Crime Club
"A dark but richly described backdrop and a relentless, underlying tension drive this sad story to its bittersweet conclusion." --Publishers Weekly