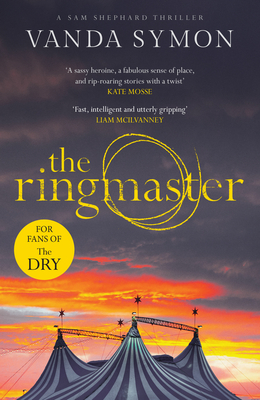 The Ringmaster (Sam Shephard) (Paperback)
Orenda Books, 9781912374656, 320pp.
Publication Date: November 1, 2019
Other Editions of This Title:
MP3 CD (6/1/2019)
Paperback, Large Print (9/1/2019)
Compact Disc (6/1/2019)
* Individual store prices may vary.
Description
The heart-stoppingly tense next instalment in the richly atmospheric, page-turning and international bestselling Sam Shephard series … for fans of The Dry


'Finally, UK readers get to discover New Zealand's own Queen of Crime. Vanda Symon is a big talent and everything she writes is fast, intelligent and utterly gripping. In Sam Shephard, Symon has created a compelling series lead, and her treatment of small-town New Zealand is superbly atmospheric. This one's a cracker' Liam McIlvanney

'Vanda Symon is part of a new wave of Kiwi crime writers … her talent for creating well-rounded characters permeates throughout' Crimewatch

'It is Symon's copper Sam, self-deprecating and very human, who represents the writer's real achievement' Barry Forshaw, The Guardian

Death is stalking the South Island of New Zealand

Marginalised by previous antics, Sam Shephard, is on the bottom rung of detective training in Dunedin, and her boss makes sure she knows it. She gets involved in her first homicide investigation, when a university student is murdered in the Botanic Gardens, and Sam soon discovers this is not an isolated incident. There is a chilling prospect of a predator loose in Dunedin, and a very strong possibility that the deaths are linked to a visiting circus…

Determined to find out who's running the show, and to prove herself, Sam throws herself into an investigation that can have only one ending…

Rich with atmosphere, humour and a dark, shocking plot, The Ringmaster marks the return of passionate, headstrong police officer, Sam Shephard, in the next instalment of Vanda Symon's bestselling series.

'MUST HAVE' Daily Express

'A sassy heroine, fabulous sense of place, and rip-roaring stories with a twist' Kate Mosse

'Antipodean-set crime is riding high thanks to the likes of Jane Harper and fans of The Dry will also like Vanda Symons' Red Magazine

'One of the best in this genre that I've read in years' Trena Marshall, Waikato Times

'A rollicking good read' Kim Knight, Sunday Star Times

'Lively evocation of small-town life, with a plot that grabs the reader's attention with a heart-stopping opening and doesn't let go' The Times

'The Ringmaster is an absolute beauty of a read, well-written, absorbing, and extremely enjoyable' Liz Robinson, LoveReading

'The Ringmaster wowed me with its twisty journey, weaving various threads together, right through the shocking, and surprising, ending. This gripping series is a definite 'must read' for me – and for anyone else who loves entertaining, humorous crime fiction with plenty of heart' Off-the-Shelf Books

'This would be a brilliant holiday read, so if you're looking for a book to read on the beach, I can highly recommend this one' Segnalibro

'Atmospheric, gripping and incredibly satisfying; my only problem is that I read it too quickly and now have to wait for the next instalment!' Random Things Through My Letterbox
 
'With taut writing and brilliantly developed characters, this is turning into a must-read crime series. I, for one, can't wait to read more. Roll on book three' Hooked From Page One
 
About the Author
Vanda Symon is a crime writer, TV presenter, and radio host, and the chair of the Otago Southland branch of the New Zealand Society of Authors. The Sam Shephard series has been shortlisted for the Ngaio Marsh Award for best crime novel.
Praise For The Ringmaster (Sam Shephard)…
"Lively evocation of small-town life, with a plot that grabs the reader's attention with a heart-stopping opening and doesn't let go." —Times
"Vanda Symon is part of a new wave of Kiwi crime writers . . . her talent for creating well-rounded characters permeates throughout." —Crimewatch
"A sassy heroine, fabulous sense of place, and rip-roaring stories with a twist." —Kate Mosse, author, Languedoc Trilogy
"Finally, UK readers get to discover New Zealand's own Queen of Crime. Vanda Symon is a big talent and everything she writes is fast, intelligent and utterly gripping. In Sam Shephard, Symon has created a compelling series lead, and her treatment of small-town New Zealand is superbly atmospheric. This one's a cracker." —Liam McIlvanney, author, Conway Trilogy
"One of the best in this genre that I've read in years." —Waikato Times
"A rollicking good read." —Sunday Star Times
"Atmospheric, emotional, and gripping, The Ringmaster proves that Sam Shephard will continue to be a force to be reckoned with." — Foreword Reviews
"[A] crime novel with many layers...A fine thriller by a writer who deserves a larger audience in the U.S." — Booklist Online Exclusive