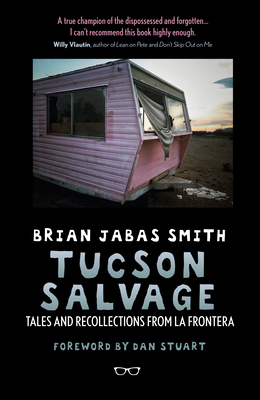 Tucson Salvage
Tales and Recollections from La Frontera
Paperback

* Individual store prices may vary.
Description
Literary Nonfiction. Essays. This book is a chronicle of the overlooked and unsung, a collection of award-winning essays based on Brian Jabas Smith's popular column, Tucson Salvage. A true champion of the dispossessed and forgotten. ... I can't recommend this book highly enough.--Willy Vlautin TUCSON SALVAGE is holy work, no doubt about it, but done by a fallen altar boy who truly knows what it's like to feel completely alone and abandoned, all bridges burned, no direction home.--Dan Stuart In TUCSON SALVAGE, Brian Jabas Smith deftly delivers us a nuanced collection of field reports from the modern human condition; keenly observed, humanely considered, and unquestionably lived.--Jonathan Evison These aren't stories of the movers and shakers of our world, these are stories about the rest of us, the lucky ones trying to hold it together under the daily grind and the not so lucky who have been crushed by all the moving and shaking. Brian Jabas Smith lovingly describes these people, their remarkable spirit and resilience and the city and desert they call home. Thank God or whatever deity may be out there that we have gifted writers like Brian Jabas Smith who have chosen to undertake the noble endeavor of telling these stories, and to remind us that these human beings who exist in the shadows are as much us as those who live in the limelight.--Tom Hansen A humble troubadour of Tucson's desert-fried streets and dives, Brian Jabas Smith listens to barmaids and junkies, to the homeless and the undocumented, and retells their heartbreak tales in incandescent prose. This compassionate book about the struggles of the dispossessed is an important corrective to the myth of the Southwest as a golden promised land.--Margaret Regan.
Eyewear Publiishing, 9781912477197, 330pp.
Publication Date: November 15, 2018
About the Author
Brian Jabas Smith is an award-winning journalist, editor and the author of SPENT SAINTS & OTHER STORIES and TUCSON SALVAGE: TALES AND RECOLLECTIONS FROM LA FRONTERA. He was a songwriter who fronted bands Beat Angels and Gentlemen AfterDark and at one point he overcame crystal meth and alcohol addictions. As a kid growing up in Tucson, Arizona, Smith was a national class bicycle racer. He lives in Tucson with his wife and young son.
or
Not Currently Available for Direct Purchase