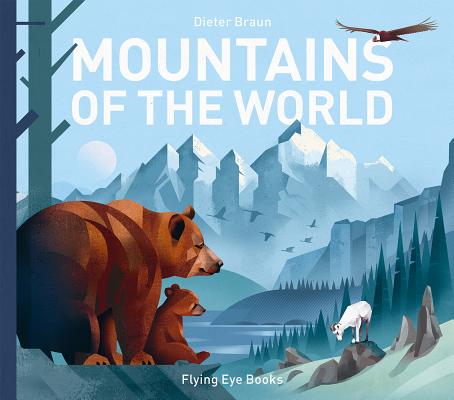 Mountains of the World (Hardcover)
Flying Eye Books, 9781912497942, 96pp.
Publication Date: June 5, 2018
* Individual store prices may vary.
Description
Wild Animals of The North creator, Dieter Braun, explores mountains of the world in his latest nonfiction picture book.

Mountains have been the fascination (and sometimes the downfall) of adventurers and explorers throughout history. Meet the animal inhabitants of these rocky peaks, as well as the brave travelers who challenged their great heights. Climb into this immersive book and explore the top of the world, from the peaks of Kilimanjaro to the summit of Mount Everest. Revel in the lush illustrations by Wild Animals of The North creator, Dieter Braun, in this celebration of mountains all over the world.
About the Author
Dieter Braun is a freelance illustrator and children's book author from Hamburg, Germany. He studied Communication Design at the Folkwangschule in Essen. He has illustrated for Time Magazine, The New York Times, Elle and Glamour.

Praise For Mountains of the World…
"[...] gifted with bold visuals and a beguiling sense of appreciation for nature's beauties."
—Kirkus Reviews

"The art is striking: filling each page, beautifully angular graphics interpret rather than literally depict what is happening on and around these massive natural formations, many with supporting captions. […] a fun exploration"
—Booklist 

"From icy glaciers to fiery volcanic peaks and summits made of rock and sand, the breathtaking mountains of the world emerge in a comprehensive and engaging compilation that explores the highest heights known to man."
—Foreword Reviews