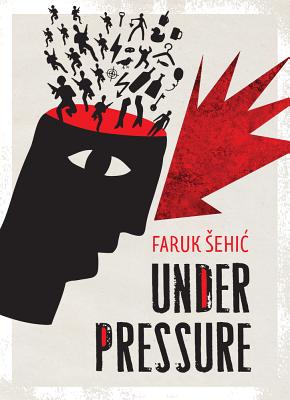 Under Pressure (Paperback)
Istros Books, 9781912545025, 166pp.
Publication Date: September 1, 2019
* Individual store prices may vary.
Description
With this collection of brutal and heart-wrenching stories, the Bosnian writer Faruk Šehic secured his reputation as one of the greatest writers to emerge from the region. A war veteran and a poet, Sehic combines beauty and horror to seduce and surprise the reader; Šehic literally describes the war through the gun sight of an AK-47. His book is brutal, naturalistic, honest and uncompromising; his characters kill and get killed, they rob corpses and homes, they get drunk and get into fights, they parade in front of a mirror wearing a uniform ripped off a dead soldier. There's drugs and alcohol in abundance, and they are—paradoxically—reason's last line of defense.
About the Author
Literary critics have hailed Faruk Šehic as the leader of the "mangled generation" of writers born in 1970s Yugoslavia, and his books have achieved cult status with readers across the whole region. Under Pressure was awarded the Zoro Verlag Prize. His debut novel Quiet Flows the Una received the Meša Selimovic prize for the best novel published in Serbia, Bosnia and Herzegovina, Montenegro and Croatia in 2011 and the EU Prize for Literature in 2013. Šehic lives in Sarajevo and works as a columnist and journalist. Mirza Puric is a literary translator working from German and Bosnian-Croatian-Montenegrin-Serbian. He is a contributing editor of EuropeNow and in-house translator for the Sarajevo Writers' Workshop. From 2014 to 2017 he was an editor-at-large for Asymptote. 
Praise For Under Pressure…
"Šehić literally describes the war through the gun sight of an AK-47. His book is brutal, naturalistic, honest and uncompromising; his characters kill and get killed, they rob corpses and homes, they get drunk and get into fights, they parade in front of a mirror wearing a uniform ripped off a dead soldier. . . . There's drugs and alcohol in abundance, and they are—paradoxically—reason's last line of defence. But more importantly, Šehić does not use that paradox to describe his characters, but rather the times they live in. Alcohol and drugs are the means of escape into a better, parallel reality, to escape into an illusion of life." —Josip Mlakić
"The Bosnian author's existence seems bipolar, founded upon the meeting of unlikely identities: a subtle poet and a grizzled soldier in symbiosis. Speaking of his days as a commando, he grins at the recollection of keeping an American poetry anthology in the ammo belt of his Kalashnikov. (Ginsberg was his favourite.) Now he has won recognition as a prose stylist, and his demeanour speaks more of a shy veteran than a literary figure." —TodayTranslations
"It's hard to catalog the many ways this work satisfies. . . . This is a work flooded with delight." —World Literature Today on Quiet Flows the Una
"Unmistakably the work of a master poet. His prose is a treasury of allusion, metaphor, and simile describing his participation on the "government side" in the Bosnian conflict between 1990 and 1994. . . .  To set the tone for the English-language reader, the translator, Mirza Purić, offers a short introduction entitled "It's Complicated," which provides useful historical background for the story. What follows is a beautifully blended collaboration, nicely captured in Purić's English prose, between the author and the whispering influences of Ernest Hemingway and Ismail Kadare. . . . Purić's disarming English translation is a work of gentle authority that grapples smartly with a wide range of linguistic challenges. . . .  Brilliant, insightful, poetic, and breathtaking as Under Pressure is, it remains only a snapshot of this great writer's early work. English-language readers need not fear, however, since what amounts to a follow-up novel, Quietly Flows The Una, was already published by Istros in 2016." —LA Review of Books
"Under Pressure composes itself in a post-traumatic key, with the narrator oscillating and careering between various psychic moods and linguistic registers.. . the narrator's language is basic and crude, but the inner thoughts we are allowed to access reveal a fertile mind full of wasted potential. Precise references to Dostoevsky and Sartre (not to mention Hendrix, Bowie and Nirvana) come to him naturally. Indeed, the narrator is not unlike Sartre's Roquentin or Dostoevsky's 'underground man' - an articulate individual almost entirely alienated from anything life-sustaining, someone unable to craft a coherent or stable identity." —Times Literary Supplement
"Šehić's fine eye for detail serves to aestheticize atrocity without ever fetishizing it...Brilliant, insightful, poetic, and breathtaking."— Los Angeles Review of Books