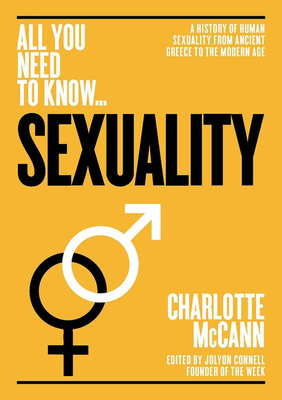 Sexuality (Paperback)
A History of Human Sexuality from Ancient Greece to the Modern Age (All you need to know)
Connell Publishing, 9781912568031, 128pp.
Publication Date: January 22, 2019
* Individual store prices may vary.
Description
"Humans have always had sex. But look through the keyhole of history and you will see they have not always had sex in the same manner, with the same kinds of people or with the same beliefs about whether what they are doing is right or desirable."

So writes Charlie McCann in this fascinating study of sex and sexuality through the ages. Beginning with the world of antiquity and ending with the present, she traces our changing attitudes to our bodies and what we do with them, conducting us on a tour which takes in the gymnasiums of ancient Greece, where men seduced boys, to the caves occupied by Christian ascetics, to the fashionable drawing rooms of Georgian London, where libertines hunted for women to prey on, and the clubs of Weimar Berlin, where lesbians debated the nature of their desire.

Nowadays, in Europe and North America, the way we think about sexuality is a fundamental part of our identity. To a greater extent than ever, we are defined by our sexual preferences. Sexuality matters more than it ever has before. We need to understand it to understand ourselves.
About the Author
Charlie McCann is the assistant editor of The Economist's lifestyle and culture magazine, 1843. She has written prolifically about contemporary cultural and sexual issues.
Praise For Sexuality: A History of Human Sexuality from Ancient Greece to the Modern Age (All you need to know)…
"A compelling, pacy and entertaining read. Solidly grounded in recent scholarship, it provides a vivid and accurate introduction to a historical topic of ample contemporary political resonance."
- Dr Agnes Arnold-Forster, University of Roehampton
Sexuality is a welcome, entertaining and very smart romp through a complex subject. Sex is always on our minds; this book helps us know what we are thinking."
- The Economist
"The masterstroke of series editor Jolyon Connell lies in his enlistment of experts who maintain their literary verve and sharp opinions in short form."
- Daily Mail