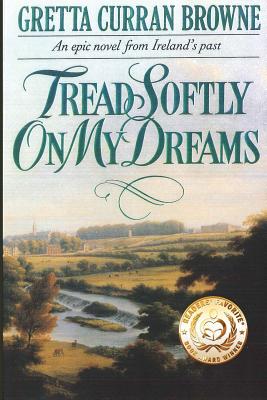 Tread Softly On My Dreams (Liberty Trilogy #1)
Paperback

* Individual store prices may vary.
Other Editions of This Title:
Hardcover (11/13/2016)
Paperback (10/28/2013)
Description
WINNER OF READERS' FAVORITE GOLD MEDAL AWARDAN EPIC NOVEL FROM IRELAND'S PAST
"We were taught nothing about Ireland or its history in school, and when I learned of our part in that struggle I felt shame. I think the whole world should know about young men like Tone and Robert Emmet. Oscar-winning Actor, COLIN FIRTH, Sunday Times Magazine
The Emmets are Protestants, belonging to the elite society of Ireland's ruling class. Born in 1778, Robert Emmet, the youngest son of the State Physician of Ireland, has grown up in the heart of a prosperous and loving family, one of the most respected in Dublin city. From his parents he acquired a deep love of Ireland and a commitment to justice. From his brother Thomas he acquired an understanding of the divisions and inequalities of his country.In the historic year of 1798 Robert's life changed from its charted course to one of rebellion. A brilliant student at Trinity, he casts aside all hopes of a scientific career, all the privileges of his class, to join the United Irishmen - a society dedicated to the union of Protestant and Catholic. But the men in Dublin Castle determined on the continuance of English rule, force him to flee to France. But even as his boat sails away from his beloved homeland, he looks back and knows he will return - to the cause of his country's liberty, and to the beautiful girl he has fallen in love with, Sarah Curran, the daughter of Ireland's most talented lawyer.He returns - and meets Anne Devlin, a passionate and brave Catholic country girl, who becomes his most devoted companion.Set against the background of the beauty of Ireland, the dark clouds of its past, as well as the humour and dreams of its people, this is a passionate and powerful true story of three young people, Robert Emmet, Anne Devlin, and Sarah Curran, drawn together in love, in hope, and tragedy.
"Although I started off thinking this would be a love story, an incredible tale of political corruption also began to unfold."THE IRISH TIMES.
Gretta Curran Browne, 9781912598205, 406pp.
Publication Date: March 12, 2018