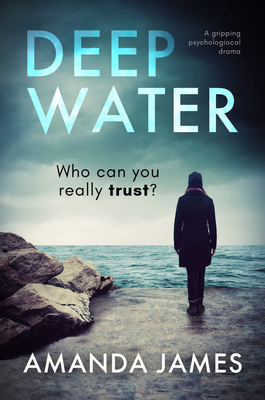 Deep Water
A Gripping Psychological Suspense
Paperback

* Individual store prices may vary.
Description
Looking for a gripping crime drama, full of suspense? Then discover the unmissable Deep Water, today. Who can you really trust? DI Bryony Masters has been on the tail of Kenny Ransom for two years. He's involved in prostitution and trafficking, but there's never been any real proof. To complicate matters further, Bryony's best friend from childhood is his daughter Imogen. Bryony worries about admitting the fact that she is trying to put Imogen's dad away, but unexpectedly, Imogen turns on her father and helps the police. Kenny finds out and swears he'll get his revenge. Sick of being in the police force, Bryony visits her mother in Cornwall and considers starting a new life. While in Cornwall, Bryony saves the life of a man caught up in a rip current in the sea. But who is this stranger? And is Kenny really bent on revenge? Deep Water explores the relationships between families and friends and asks who can you ever really trust. *** Deep Water was previously published under the title Rip Current *** Praise for Deep Water:
"I really enjoyed this story--it was dark, gritty and gripping " --Donna Maguire, Donna's Book Blog "Amanda James is, without a doubt, becoming one of the 'must-read' authors on my list; there is nothing formulaic about her novels, each one is individually crafted and extremely enjoyable." --Grace Smith, Reviewerlady: Good 'n' Read y "Rip Current has a brilliant plot full of suspense, drama and crime " --Rachel Broughton, Rae Reads "At times this story was dark and gritty which I loved " --Zoe O'Farrell, Zooloo Book Blog "I love Amanda's books she always delivers a gripping and thrilling read." --Dash Fan Book Reviews "If you're after a novel that is jam-packed with drama, secrets and lies, you have come to the right place as 'RIP Current' ticks all of those boxes and more." --Kaisha Holloway, The Writing Garnet "Parts of this book were so tense and I was furiously turning the pages to figure out what was going to happen next." --Berit Lohn, Audio Killed The Bookmark "Rip Current is as dark and disturbing as it is gripping and addictive." --Michelle Ryles, The Book Magnet "A compulsively readable tale that I highly recommend, Rip Current is the unmissable new novel from Amanda James' gifted and immensely talented pen " --Julie, Bookish Jottings Amanda James is the bestselling author of Another Mother and The Calico Cat. Deep Water is a crime thriller full of suspense, that will appeal to fans of domestic noir, as well as authors like Louise Jensen, Shalini Boland, and C. L. Taylor.
Bloodhound Books, 9781912604425, 254pp.
Publication Date: June 27, 2018
About the Author
Amanda has written since she was a child, but never imagined that her words would be published, given that she left school with no real qualifications of note apart from an A* in how to be a nuisance in class. Nevertheless, she returned to education when her daughter was five and eventually became a history teacher. Then in 2010, after many twists and turns, the dream of becoming a writer came true when her first short story was published. Amanda has written many short stories and has six novels currently published. Amanda grew up in Sheffield but now has realised her lifelong dream of living in Cornwall and her writing is inspired every day by the dramatic coastline near her home. She has sketched out many stories in her head while walking the cliff paths. Three of her mystery/suspense novels are set there, Somewhere Beyond the Sea, Summer in Tintagel and the Behind the Lie. Rip Current is also set in Cornwall and will be published by Bloodhound Books in April 2018. Amanda, known to many as Mandy, spends far more time than is good for her on social media and has turned procrastination to a fine art. She can also usually be found playing on the beach with her family, or walking the cliff paths planning her next book. Amanda's blog - http: //mandykjameswrites.blogspot.com/ Twitter - @akjames61 Facebook mandy.james.33