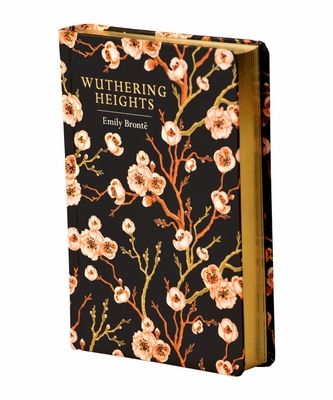 Wuthering Heights
Hardcover

* Individual store prices may vary.
Other Editions of This Title:
Paperback (4/1/2015)
Paperback (7/1/2014)
Paperback (1/18/2008)
Paperback (7/17/2015)
Paperback (12/18/2013)
Paperback (5/14/2014)
Paperback (12/4/2013)
Paperback (1/8/2012)
Paperback (2/26/2007)
Paperback (6/15/2018)
Paperback (2/3/2012)
Paperback (11/2/2006)
Paperback (7/5/2013)
Paperback (7/26/2017)
Paperback (10/17/2014)
Paperback (9/2/2014)
Paperback (1/21/2013)
Paperback (3/19/2009)
Paperback (5/12/2015)
Paperback (3/6/2014)
Description
Chiltern Publishing creates the most beautiful editions of the World's finest literature.
Your favourite classic titles in a way you have never seen them before; the tactile layers, fine details and beautiful colours of these remarkable covers make these titles feel extra special and will look striking on any shelf.
This book has matching lined and blank journals
(sold separately)
. They make a great gift when paired together but are also just as beautiful on their own.
Wuthering Heights By Emily Bronte is a novel narrated through the diary of Mr. Lockwood as he writes down both his own experiences and the recollections of others. Desiring solitude, Lockwood has recently begun renting Thrushcross Grange, a remote house in the Yorkshire Moors of Northern England.
One day, he decides to visit Wuthering Heights, the nearby home of his new landlord, Heathcliff. At Wuthering Heights, Lockwood encounters several strange and unpleasant characters: Cathy, Heathcliff's beautiful but rude daughter-in-law; Hareton Earnshaw, an uncivilized yet prideful young man; Joseph, a surly old servant; and Heathcliff, the misanthropic owner of both Wuthering Heights and Thrushcross Grange.
Mystified by the obvious animosity between the occupants of Wuthering Heights, Lockwood returns for a second visit but is forced to spend the night when a snowstorm hits. In the middle of the night, Lockwood is awakened by a ghostly child who calls herself Catherine Linton and begs to be let in through the window.
Utterly terrified, Lockwood wakes Heathcliff, who then proceeds to throw open the window and call out to the ghost, begging it to return. Desperate to leave this haunted house and its eerie residents, Lockwood sets off for Thrushcross Grange as soon as possible..
Chiltern Publishing, 9781912714070, 368pp.
Publication Date: September 27, 2018