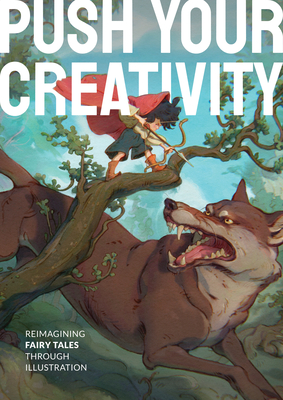 Push Your Creativity
Reimagining Fairy Tales Through Illustration
Hardcover

* Individual store prices may vary.
Description
The magical powers of a storybook cannot be denied, but what if within those pages awaited not traditionally-written fairy tales from all times and places, but those same tales re-told by some of the world's most talented and respected artists
Fairy Tales Reimagined is a lavish hardback tome, containing 288 pages populated by characters who started life known to children and adults around the world. However, these characters, their settings, and narratives, have taken on a different form, their stories unflinchingly transformed. The infamous darkness that shrouds many fairy tales is left intact, while in others, the weird, wondrous, and even unexpected workaday awaits.

Lovingly drawn and painted scenes filled with colour and detail make each reimagining utterly convincing. To help tell these transformed tales are the artist's scribbles and sketches, giving a behind-the-scenes glimpse of their creative process. Minimal text provides just enough information to shed light on these new narratives, but ultimately the imagery tells the story. Whether seen as an inspirational art resource, a treasury of tales told through a fantastical filter, or simply a unique collection of bedtime stories, Fairy Tales Reimagined will captivate audiences within and far beyond the realms of practical art.

3dtotal Publishing, 9781912843619, 288pp.
Publication Date: March 14, 2023