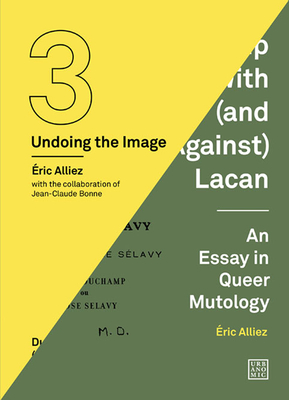 Duchamp Looked At (From the Other Side)
(Undoing the Image 3) (Urbanomic / Art Editions)
Paperback

* Individual store prices may vary.
Description
A detailed examination of the motivations and precise coordinates of Duchamp's break from painting into the field of the linguistic sign.
Matisse and Duchamp seem to incarnate ideal poles of the tension internal to modern art as it plunged into crisis the idea of the image—a polemical operation that opened the way to contemporary art's auto-problematization of experimental constructivism. Where Matisse subverted the aesthetic regime by bringing painting out of itself to invest its environment in a Bergsonian energetics of color, Duchamp cuts it off from the plastic arts through a reversal of Bergson's in-the-making. The readymade captures a literalized signifier of this perspective. Duchamp Looked At is an extraordinarily rich philosophical study that offers a startling new account of the dis/continuity between the problems of contemporary art and the new articulations Duchamp fabricated between image and idea, science and art, painting and language.
Alliez and Bonne's meticulous archaeological survey rediscovers the real problems and motivations of "Duchamp-thought" through a close analysis of his entire oeuvre: from the Nudes in which the problem of representing movement is gradually displaced into the realm of the virtual, the image disqualified in favor of the diagram, to the pataphysical sciences of chance and the particular, the readymades, the Large Glass and Étant donnés—and beyond, as the artist carbonizes the gallery with 1200 Sacks of Coal and ties it up with Miles of String, in installations that take Duchamp beyond Duchamp.
Urbanomic, 9781913029678, 256pp.
Publication Date: October 11, 2022
About the Author
Éric Alliez is a philosopher and Professor at Université Paris 8 and at the Centre for Research in Modern European Philosophy at Kingston University, London. He is author of Capital Times, The Signature of the World: Or, What is Deleuze and Guattari's Philosophy?, The Brain-Eye: New Histories of Modern Painting, and Wars and Capital, with Maurizio Lazzarato (Semiotext(e)), and coeditor of The Guattari Effect, and Spheres of Action: Art and Politics (MIT Press).

Jean-Claude Bonne is an art historian and Director of Studies at the École des Hautes Études en Sciences Sociales, Paris.

Robin Mackay is a philosopher, Director of the UK arts organization Urbanomic, and Associate Researcher at Goldsmiths University of London.