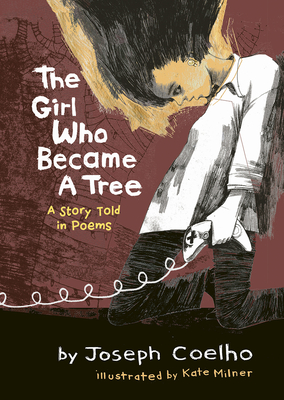 The Girl Who Became a Tree
A Story Told in Poems
Hardcover

* Individual store prices may vary.
Description
Shortlisted for the CILIP Carnegie Medal 2021 Daphne is unbearably sad and adrift. She feels the painful loss of her father acutely and seeks solace both in the security of her local library and the escape her phone screen provides by blocking out the world around her. As Daphne tries to make sense of what has happened she recalls memories of shared times and stories past, and in facing the darkness she finds a way back from the tangle of fear and confusion, to feel connected once more with her friends and family. The Girl Who Became a Tree sees Joseph Coelho deploy a wide variety of poetic forms with consummate skill in its narration of events. He seamlessly but searingly weaves together the ancient legend of Daphne, who was turned into a tree to avoid the attentions of the god Apollo, and a totally modern tale, mixing real-life and fantasy, in which a latter-day Daphne seeks her own freedom. This a heart-stoppingly imaginative story told in poems, at times bleak and even tragic, which is layered, rich and ultimately a tour de force of poetic skill and energy.
Praise For The Girl Who Became a Tree: A Story Told in Poems…
"Rich with metaphor and secret meaning, his poetry is deeply welcoming, and his sensibility is both mythic and urban." —Guardian Fresh Voices: 50 Writers You Should Read Now
 

"Finally, something slightly different. I think publishers and bookshops are missing a trick with poetry. They seem to stock poetry collections for younger children and adult poetry from the historical to the contemporary. Where is the poetry for young adults? Beyond the bookshops, there is a dynamic and diverse spoken word scene, young people articulating their lives and experiences through rhythm, rhyme, lyricism. These are poems about childhood belonging, separated families and the stories we build when there are gaps we can't know. My teenage daughter and I have read them together. " —Waterstones.com, Top 5 Young Adult Reads of 2017

"Ingenious...Kate Milner's extraordinary line drawings express the underlying strangeness." —Sunday Times, Children's Book of the Week

"A highly readable, imaginative tale with a positive message. Coelho's poems are succinct, thought-provoking and original." —The Independent

"The talented and inventive Joseph Coelho last month published The Girl Who Became a Tree, a story in verse that revisits the myth of Daphne. Set in a library...it plays with form and setting in a way that invites young readers in." —Imogen Russell Williams, Times Literary Supplement

"Showcasing the power of verse novels is Joseph Coelho's superb The Girl Who Became a Tree...A series of rich and varied poems is accented by Kate Milner's dark, evocative art." —Fiona Noble, The Observer

"The author combines intense imaginative power with brilliant poetic technique in a multi-layered story of loss, hurt, deception, recognition and ultimate reconciliation. Milner's evocative art adds further depth." —Fiona Noble, The Bookseller

"A brief yet challenging novel in verse that tackles the gnarly, disordered forest of the grieving process." —Kirkus Reviews
Otter-Barry Books, 9781913074784, 176pp.
Publication Date: May 1, 2021
About the Author
Joseph Coelho is a performance poet and playwright. His debut poetry collection Werewolf Club Rules won the prestigious CLiPPA Poetry Award in 2015. His poetry collection Overheard in a Tower Block was published to great acclaim in 2019. Kate Milner studied illustration at Central St Martin's before completing an MA in Children's Book Illustration at Anglia Ruskin University. Kate won the V&A Illustration Award 2016 and the Klaus Flugge Prize 2018 for My name is not Refugee. Her most recent book is It's a No-Money Day.