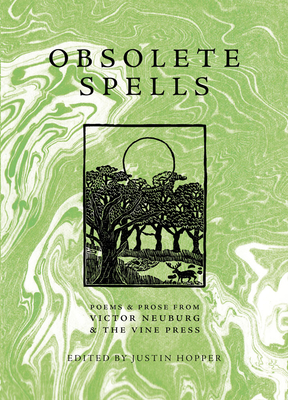 Obsolete Spells
Poems & Prose from Victor Neuburg & the Vine Press
Paperback

* Individual store prices may vary.
Description
A collection of rare pagan poetry and purple prose from the heart of the 1920s counterculture.

Victor Neuburg is most famous for two things: discovering Dylan Thomas, and being the man that Aleister Crowley once turned into a camel. Obsolete Spells offers another side of Neuburg, through his own poems and the strange books of Vine Press, the hand-operated imprint he ran from his West Sussex cottage between 1920 and 1930.

Neuburg's youth involved terrifying-yet-farcical years as Crowley's lover, victim, and magickal sidekick. His later period, as editor of the influential "Poet's Corner" column for the Sunday Referee, found him a key figure in London's literary scene.

But in between, Neuburg acted as a conduit for bohemian writers, arts luminaries, and the sexually adventurous: Peter Warlock set his words to music, singer Marian Anderson lived in his spare room, and he was a fixture at utopian community, the Sanctuary. Through it all, he turned the handle on the Vine Press: books of nature writing and anonymous song; poems and artwork worthy of The Wicker Man, side-by-side with a book on cricket.

Obsolete Spells offers a selection of Neuburg's work and others from Vine Press books--over-the-top hymns to the Old Gods, tales from a utopian landscape, and more, most of which has been out of print for a century.
Strange Attractor Press, 9781913689261, 240pp.
Publication Date: August 16, 2022
About the Author
Justin Hopper is an American writer based in Britain. His work explores the intersection of landscape, memory and myth. His site-specific audio poetry works have been commissioned by arts organisations and festivals in the US and UK. For Wood Street Galleries in the US, Hopper has curated a decade-long series of contemporary landscape-art exhibitions. His most recent release, the 2019 spoken-word and music album Chanctonbury Rings from Ghost Box Records, was called "an album of sensual spellcraft" by Caught by the River.