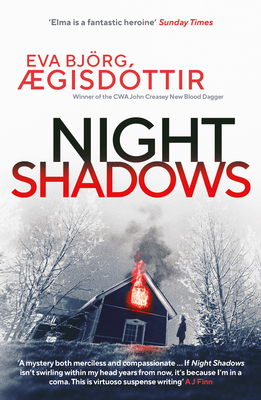 Night Shadows (Forbidden Iceland #3)
Paperback

* Individual store prices may vary.
Description
Icelandic detective Elma faces mortal danger as she investigates the death of a young man in a mysterious Akranes house fire, and a Dutch au pair's perfect placement turns deadly … The breathtaking third instalment in the award-winning Forbidden Iceland series.

***WINNER of the CWA John Creasey (New Blood) Dagger***

'Her best, boldest work to date: a mystery both merciless and compassionate, subtly eerie yet flat-out frightening, featuring a detective as complicated as Jo Nesbø's Harry Hole. This is virtuoso suspense writing' A J Finn

'Chilling and addictive, with a completely unexpected twist … I loved it' Shari Lapena

'Another beautifully written novel from one of the rising stars of Nordic Noir' Victoria Selman

_________________

The small community of Akranes is devastated when a young man dies in a mysterious house fire, and when Detective Elma and her colleagues from West Iceland CID discover the fire was arson, they become embroiled in an increasingly perplexing case involving multiple suspects. What's more, the dead man's final online search raises fears that they could be investigating not one murder, but two.

A few months before the fire, a young Dutch woman takes a job as an au pair in Iceland, desperate to make a new life for herself after the death of her father. But the seemingly perfect family who employs her turns out to have problems of its own and she soon discovers she is running out of people to turn to.

As the police begin to home in on the truth, Elma, already struggling to come to terms with a life-changing event, finds herself in mortal danger as it becomes clear that someone has secrets they'll do anything to hide…

___________________

'A creepily compelling Icelandic mystery that had me hooked from page one. Night Shadows will make you want to sleep with the lights on' Heidi Amsinck

'I loved everything about this book: the characters, the setting, the storyline, an intricately woven cast … this book had me utterly gripped!' J M Hewitt

'With the third release in the Forbidden Iceland series, Eva Björg establishes herself as not just one of the brightest names in Icelandic crime fiction, but in crime fiction full stop. Night Shadows is an absolute must-read!' Nordic Watchlist

'One of the most compelling contemporary writers of crime fiction and psychological suspense' Duncan Beattie, Fiction from Afar

Praise for the Forbidden Iceland series:

'Fans of Nordic Noir will love this' Ann Cleeves

'Elma is a fantastic heroine' Sunday Times

'Complex, gripping and moving' The Times

'An exciting and harrowing tale' Ragnar Jónasson

'Eerie and chilling. I loved every word!' Lesley Kara

'Not only a full-fat mystery, but also a chilling demonstration of how monsters are made' The Times

'Beautifully written, spine-tingling and disturbing … a thrilling new voice in Icelandic crime fiction' Yrsa Sigurðardóttir

'As chilling and atmospheric as an Icelandic winter' Lisa Gray

'An unsettling and exciting read with a couple of neat red herrings to throw the reader off the scent' NB Magazine

'Elma is a memorably complex character' Financial Times

'The twist comes out of the blue … enthralling' Tap The Line Magazine

For fans of Ragnar Jonasson, Camilla Lackberg, Ruth Rendell, Gillian McAllister and Shari Lapena
Orenda Books, 9781914585203, 276pp.
Publication Date: November 1, 2022
About the Author
Born in Akranes in 1988, Eva Björg Ægisdóttir moved to Trondheim, Norway to study my MSc in Globalisation when she was 25. After moving back home having completed her MSc, she knew it was time to start working on her novel. Eva has wanted to write books since she was 15 years old, having won a short story contest in Iceland.

Eva worked as a stewardess to make ends meet while she wrote her first novel. The book went on to win the Blackbird Award and became an Icelandic bestseller. Eva now lives with her husband and three children in Reykjavík.